9 Best Island Communities In Miami | Miami Islands
Posted by Discover Homes Miami on Thursday, December 29, 2016 at 11:00 AM
By Discover Homes Miami / December 29, 2016
Comment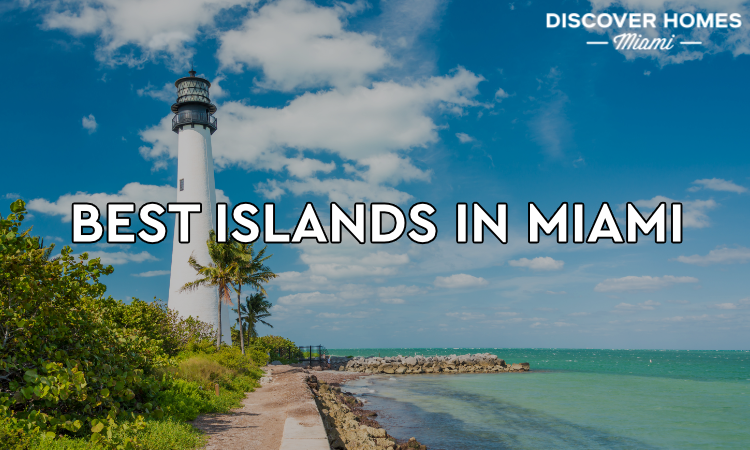 With its scenic beaches, tropical climate, and bustling districts, Miami is indeed a must-see destination for anyone seeking leisure and adventure. While the majority of the Magic City's most popular spots are obviously along its shores, its hippest happenings are not necessarily limited there. Below, we've listed the 9 best island communities in Miami to check out and the most interesting places to hang out in.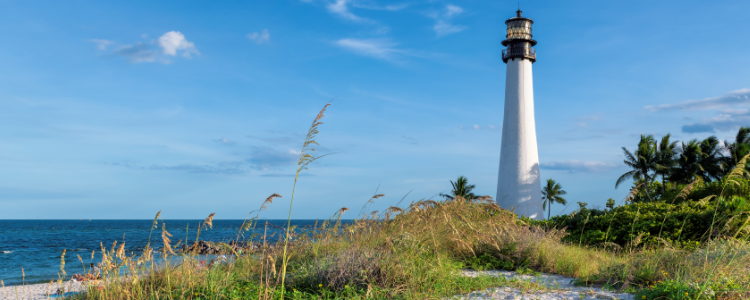 1. Key Biscayne
Considered one of the best island communities not only in Miami but in the entire country as well, Key Biscayne is what you can easily call paradise. Aside from having the waters of the bay on one side and the ocean on the other side, this island also has a long list of amenities that help make life very comfortable here. You get the best of both worlds – city life and resort life – when you choose to reside on Key Biscayne.
If you are looking for a community that gives you a combination of laid back resort living coupled with city amenities such as malls, gourmet restaurants, and the like, then this is the perfect place for you. Key Biscayne also has residential options that include low rise apartments, single-family homes, stately mansions, and modern high-rise condos for you to choose from.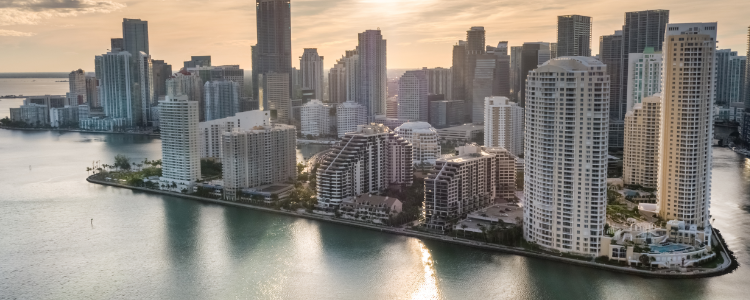 2. Brickell Key
For those who work in the financial district of Miami, living on Brickell Key is the best choice if you want to be near work yet far away enough to get the peace and relaxation that you crave at the end of a busy workday. This man-made island is shaped like a triangle and has numerous condominiums that feature amenities ideal for utmost relaxation. Aside from the spas, the pools, the parks, and the Jacuzzis that these residences offer, those who live on this island can also take advantage of the other conveniences that are also found on the island.
There are also gourmet restaurants, supermarkets, movie houses, and other entertainment options here. If these are not enough, a short cross to Brickell via the Brickell Key Drive will offer residents a whole lot more in terms of dining, entertainment, and shopping choices.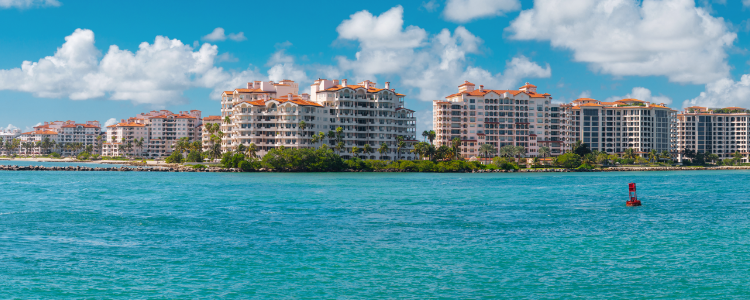 3. Fisher Island
Fisher Island is located just south of South Beach and is one of the islands in Miami that celebrities seem to flock to when they are looking for homes in the area. Some of the celebrities who have homes here, both past and present, include Oprah Winfrey, Julia Roberts, Andre Agassi, and Bois Becker, to mention but a few. Most of the houses here are pretty luxurious, with quite a few that can be called mansions.
There are also condominium buildings and complexes here that feature 11+ bedrooms in them. There are also smaller condo units for those who simply want a simple but comfortable life on this celebrity-filled enclave.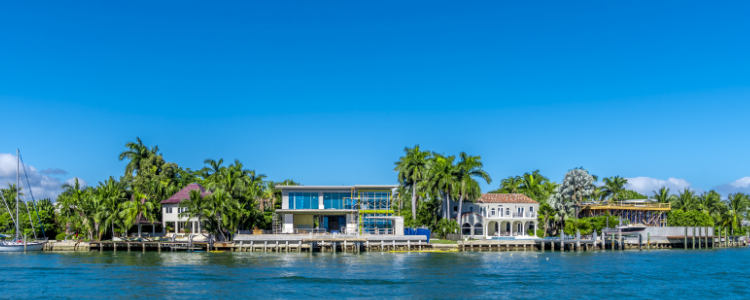 4. Palm Island
Found between Downtown Miami and Miami Beach is this oval, man-made island called Palm Island. This small community can only be reached via the MacArthur Causeway, which passes through Jungle Island and is connected to the mainland near the Perez Art Museum. The island is also home to a few popular figures past and present, like Al Capone, Gabrielle Anwar, and Nick Nolte.
Homes here are also rather opulent, and property values are pretty high. This is probably because of its closeness to the business center of Miami as well as the hip and happening South Beach, while still being pretty separate from it.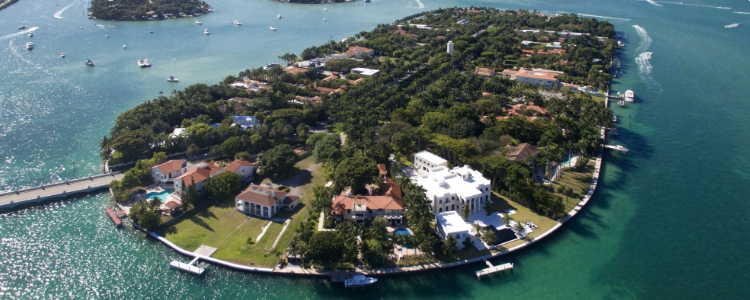 5. Star Island
Another man-made island that is also one of the favorite addresses for celebrities to purchase homes in is Star Island. This oval island located between Palm Island and Miami Beach is also reachable via the MacArthur Causeway, and a small connecting road called Bridge Road. This is often chosen by those who love their privacy and who find that the island offers that along with the convenience of still being near the many conveniences of a city.
Some of the celebrities who have or had homes here include Gloria Estefan, P. Diddy, Rosie O'Donnell, and Shaquille O'Neal. Homes here are usually 7 to 12 bedroom mansions or properties with more than one house on it.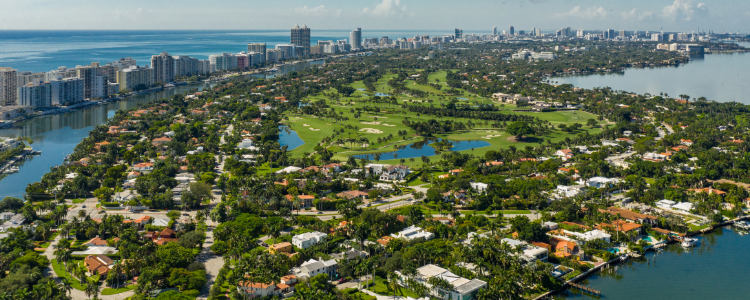 6. La Gorce
La Gorce is actually a neighborhood that consists of 3 islands, with the biggest one housing numerous residences that surround an 18-hole golf course. The La Gorce Country Club is at the center of this community and offers more than just golf to members since the complex actually has tennis courts, pools, a fitness center, and even a dining & social area. Homes here are mostly single-family homes, with some that can be easily considered mansions due to their size.
As with other islands in Miami, La Gorce also has a long list of celebrity residents. Some of the celebrities who call this island home include Shakira, Jennifer Lopez, Julio Iglesias, and Matt Damon, to name but a few.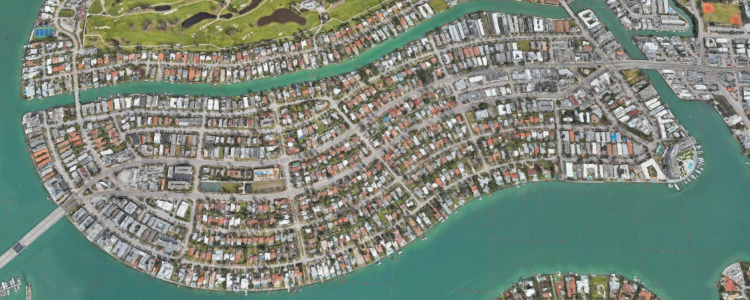 7. Isle of Normandy
The twin islands of the Isles of Normandy are located conveniently between Miami Shores and North Beach, making it a bay community. These islands are considered a great choice for those who want the Miami resort lifestyle but do not want to be surrounded by the partying and the tourists that such a distinction brings. Most of the homes on these two islands consist of low-rise and mid-rise condos as well as apartment buildings alongside single-family homes and rather sizable abodes.
The southernmost island has a number of amenities like schools, grocery stores, and shops for your convenience. The northernmost island, on the other hand, has a golf course and a yacht club in it that residents can become members of.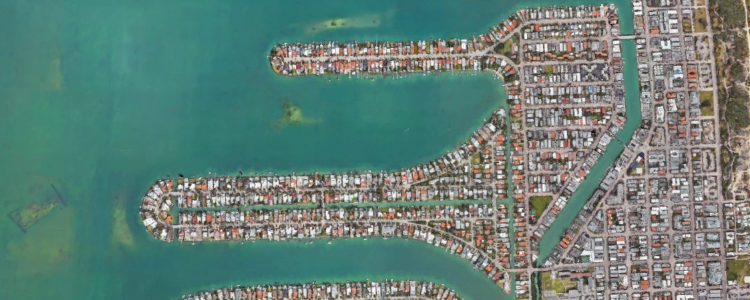 8. Biscayne Point
Located just north of the Isles of Normandy, Biscayne Point is the choice address for retirees and residents who love boating and having direct access to the water. Most of the homes here can reach the bay, and the ocean as well, by way of canals that surround these islands. While not all of the homes here do have their own boat docks or direct access to the water, a good number of them do.
The islands of this neighborhood also benefit from its close proximity to many amenities that include shopping malls in Surfside and Bal Harbour to the north, the beach to the east, and the city to the southwest. It is also close enough to South Beach for a fun night on the town, yet far enough for it to be very peaceful and quiet.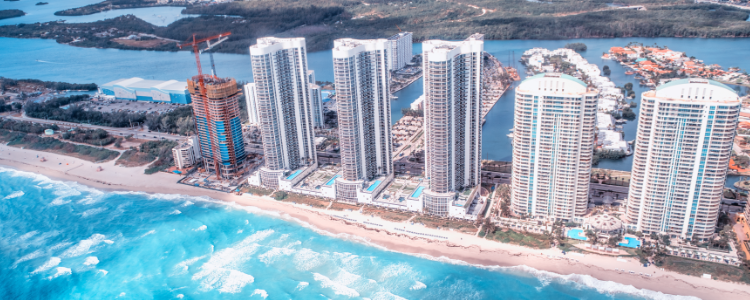 9. Eastern Shores
What used to be an island of mangroves is now an island of condominium buildings and homes in Miami. Located between Sunny Isles Beach and North Miami Beach is the island community of Eastern Shores. The convenient location of this neighborhood makes it a great choice for those who want to be near great shopping choices like Aventura and Sunny Isles, while still being near the water. Homes here consist of single-family homes as well as multi-unit condominium buildings.
The island also has a few conveniences that allow residents to enjoy life there without needing to go too far for these. Cinemas, schools, restaurants, shopping centers, and supermarkets are found near the entryway of this community.
Looking for More?