The 11 Best Fort Lauderdale Neighborhoods in 2021
Posted by Discover Homes Miami on Wednesday, March 31, 2021 at 6:46 PM
By Discover Homes Miami / March 31, 2021
Comment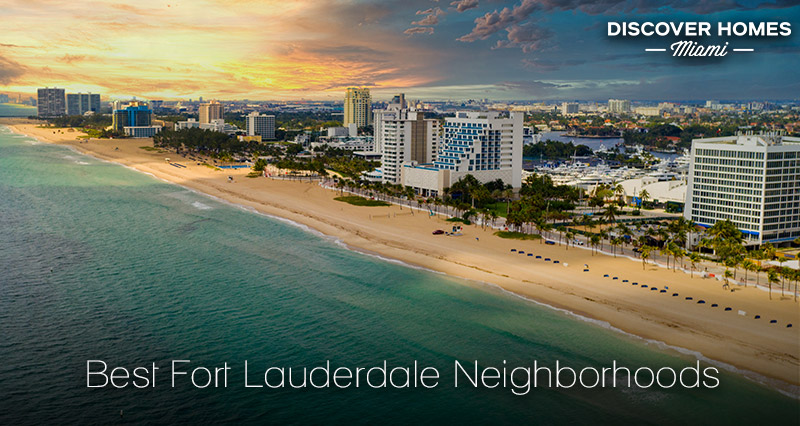 Considering living in Fort Lauderdale but not sure where to live? Check out our analysis of some of the best neighborhoods in Fort Lauderdale:
1. Coral Ridge
Coral Ridge is an upscale eastern Fort Lauderdale neighborhood offering enviable amenities to residents. The southern region of Coral Ridge boasts some of the best public and private schools in the county. The northern region embodies a country club lifestyle with nearby access to the renowned golf course and tennis facilities. Coral Ridge offers residents the convenience of suburban life, all set against the beauty of Fort Lauderdale's beaches and waterways.
Lifestyle & Culture
Much of the Coral Ridge community revolves around the social activities of golfing, tennis, and boating. The neighborhood radiates an atmosphere of the utmost class and approachable elegance.
The Coral Ridge Country Club has been a mainstay in the Coral Ridge neighborhood for almost seventy years. Featuring an expertly designed 18-hole golf course, eleven clay tennis courts, a pool, and summer youth programs, there is something for everyone. The country club holds numerous social events throughout the year for the entire family, from a holiday skating rink with snow to a delectable Mother's Day brunch.
For boat and yacht enthusiasts, the Coral Ridge Yacht Club is a popular spot for people of all ages to share their love of the surrounding Florida waters. Established in 1947, the club has fostered a sense of friendship and fun amongst its members. In addition to providing a private marina and a pool for members, the club hosts family-centered holiday events and sailing and watersports programs for all ages.
Real Estate
Coral Ridge is made up of a mixture of home types, including stunning contemporary waterfront estates, attractive single-family residences, senior communities, ocean view condominiums, and townhomes. A variety of home styles are represented throughout the community, including traditional, Meditteranean, modern contemporary, and beach bungalow style.
The Enclave is a new, gated community connected to the prestigious Coral Ridge Country Club. Home lots are available for custom builds, and the sites promise spectacular golf course adjacent views and the chance to be a part of the distinguished Coral Ridge Country Club community.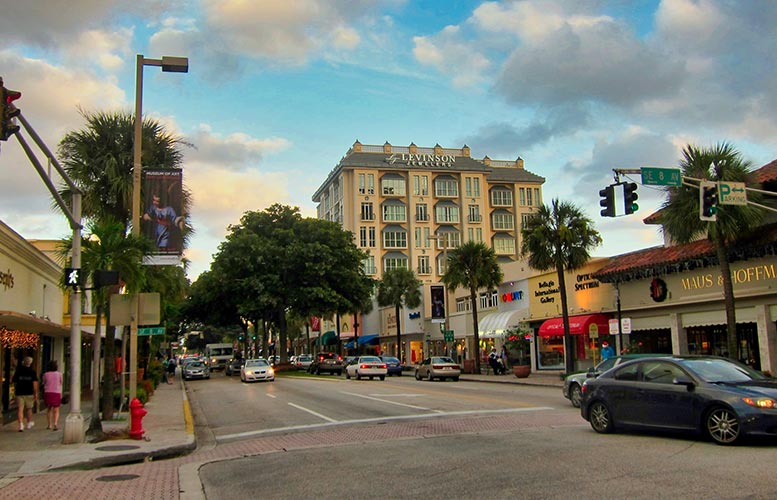 Parts of the bustling Las Olas Boulevard are located in Colee Hammock. Credit: Wally Gobetz
2. Colee Hammock
Established in 1916, Colee Hammock is a neighborhood steeped in rich history, exuding a spirit of Southern charm and community. Located in east Fort Lauderdale, Colee Hammock is one of the area's oldest neighborhoods, filled with historic homes and sweeping oak trees. The Colee in Colee Hammock's name is a tribute to the engineer, James Loius Colee, who platted the land for future residences. The Hammock refers to the hammock-style canopy that the beautiful trees create throughout the area.
Lifestyle & Culture
Colee Hammock is a laid-back, yet refined neighborhood tucked away from the city center of Fort Lauderdale. Residents can be seen walking along the tree-lined sidewalks headed to a night out or weekend brunch on Las Olas Boulevard. The community shares a deep respect for the area's history and architecture, working to preserve historic buildings while supporting new locally owned boutiques and eateries.
At the heart of the community is Las Olas Boulevard, the focal point for community events, including art and music festivals, fairs, and holiday happenings. Diverse restaurants for every palate line the boulevard, interspersed with eclectic retail shops, galleries, and exercise studios.
Colee Hammock Park is a local favorite, offering ample green space and picnic tables for a serene afternoon. The park is the perfect spot to watch the boats drift down the river, birdwatch, fish, or just enjoy the shade of the rambling oak trees. A trip to the nearby white-sand beaches is within walking distance or even a quick ride on the local trolley.
Real Estate
The Colee Hammock area is renowned for its concentration of meticulously restored and maintained historic homes. Wrap-around porches and balconies, pillared entries, spacious yards, and unique architectural styles including Spanish, Modern Contemporary, and Southern-styles are all represented. Mature oak trees shade the sidewalks and streets, reminiscent of a simpler time but with modern conveniences and businesses just minutes away.
The area offers a diverse mix of home types, including waterfront mansions along the New River to luxury condominiums on Las Olas Boulevard. Whether seeking a sleek, coastal modern property, posh condominium, or quaint historic residence, Colee Hammock has it all.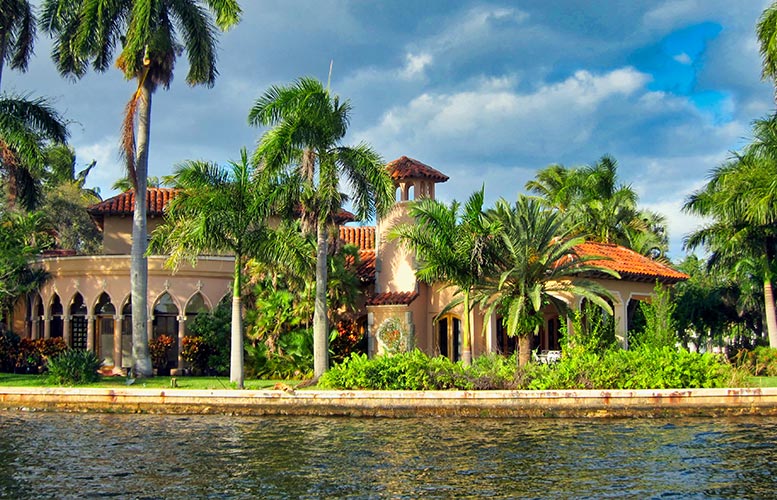 A luxury Meditterean home in Tarpon River. Credit: Wally Gobetz
7. Tarpon River
Tarpon River is a neighborhood adjacent to the central business district of Fort Lauderdale. It is aptly named after the Tarpon River that runs along the area's border, feeding into the New River. The neighborhood is perfectly located just minutes from downtown Fort Lauderdale but provides a pleasant suburban atmosphere.
Lifestyle & Culture
The Tarpon River community is made up of active residents, taking full advantage of the outdoor amenities the neighborhood has to offer. While being a haven from the urban city center, Tarpon River still has all the conveniences, shops, and services of a bustling suburban area.
Outdoor recreation is a big focus for Tarpon River residents, making the Florence C. Hardy Park and Southside Cultural Arts Center popular spots. The center recently went through a $15 million renovation and spans almost eight acres. Tennis courts, lawn bowling, shaded play structures, a soccer field, and a performing arts area are all available for the community to enjoy.
Another hot spot for locals is Lewis Landing Park. With meandering walking paths and picnic tables, residents can take in stunning views of the New Fork River. For fishing enthusiasts, nearby Tarpon Cove Park is the perfect spot to hook a fish on the Tarpon River.
Tarpon River Brewery is a mainstay in the neighborhood where family and friends get together. Local craft brews are always on tap, and the gastropub features a unique menu filled with foods that pair perfectly with a pint.
Real Estate
Tarpon River has a vast variety of real estate options, including waterfront residences, close-knit condominium communities, townhomes, and interior lot single-family residences. Most single-family homes in the area were built in the 1950s and 1960s with a mix of architectural styles, including mid-century and Meditteranean exterior elevations.
Condominiums and townhomes are also plentiful in the neighborhood, with some waterfront communities even featuring properties that include docks. Riverfront single-family homes also often include docks, perfect for launching off into the New River for a day of fishing and enjoying the Florida sunshine. Lush landscaping, including palm trees and mature oak trees, are present in front yards and lining the residential streets throughout the Tarpon River neighborhood.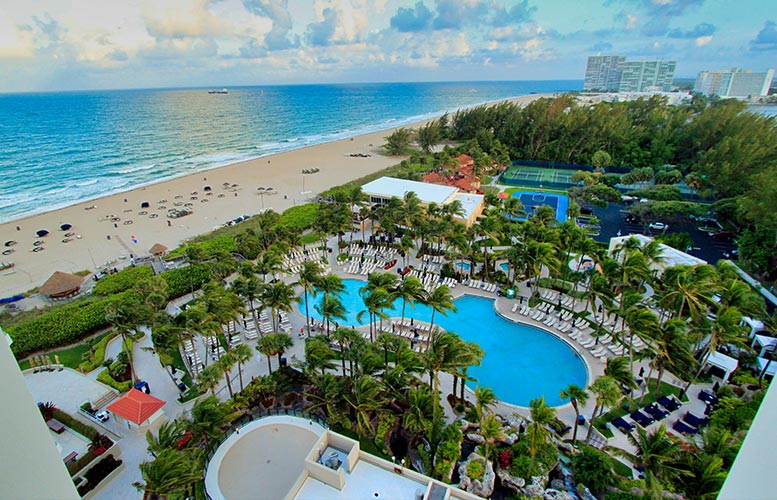 A picture from Marriott Harbor Beach. Credit: Ansel Adams
8. Harbor Beach
Harbor Beach is a prestigious community located within the southernmost part of a barrier island in Fort Lauderdale. Lake Sylvia is at the center of the neighborhood, and the area is bordered by the Atlantic Ocean on the east and the Intercoastal Waterways on the west. Entry to the neighborhood is via a gate that is guarded 24/7, providing residents with the utmost security and privacy. Those seeking a resort-style, luxury community will find what they are looking for in Harbor Beach.
Lifestyle & Culture
Much of life on Harbor Beach revolves around enjoying the beach, including watersports, boating, and socializing with family and friends in an affluent resort community. The neighborhood is a truly luxurious tropical enclave but still in close proximity to all the conveniences of downtown Fort Lauderdale.
The Club at Harbor Beach is a part of the luxurious Harbor Beach Marriott Resort and Spa. The club provides an upscale, members-only gathering place for residents providing access to a private beach and amenities including tennis courts, high-end fitness center, kid's activities, a European-style spa, water sports, and year-round social events.
The Harbor Beach Surf Club is another exclusive beach club offering members private beach and marina access along with numerous social events. The club was established in 1942 and has since been a tropical haven for members seeking the tranquility of the beach and ocean away from crowds.
Real Estate
Real estate in Harbor Beach is reflective of the exclusivity of the neighborhood. Waterfront Meditteranean and contemporary style mansions line the shores. Many of these estates include private docks with deep enough waters to accommodate speed boats and posh yachts. Harbor Beach also offers stunning dry lot properties within walking distance from the beach and Lake Sylvia.
There are a number of luxury condominiums in Harbor Beach, some boasting private beaches and pools for residents. Beautiful sunset views and glimpses of downtown Fort Lauderdale can be caught from these exceptional properties in Harbor Beach.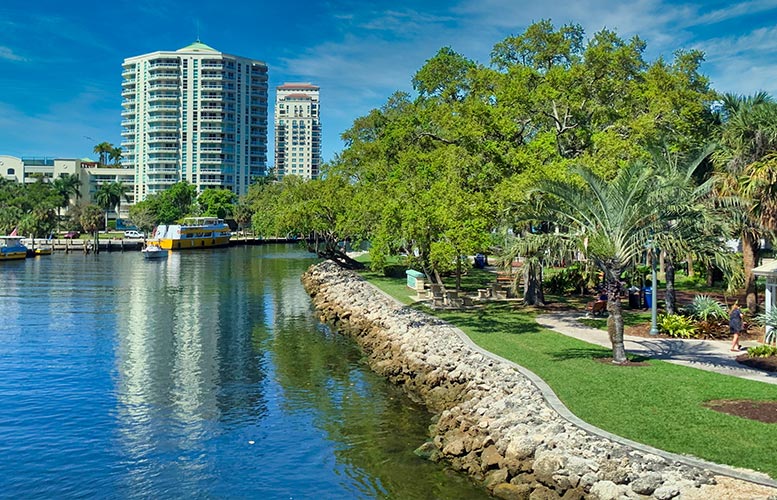 A view of the New River in Sailboat Bend. Credit: Phillip Pessar
9. Sailboat Bend
Sailboat Bend is a community that offers something for everyone. The area lays claim to the only designated historic district in all of Fort Lauderdale, with many homes being built between the 1920s to 1930s. In the neighborhood's early days, it consisted of working-class families in the trades of carpentry and masonry. Today it is a revitalized semi-urban neighborhood for all walks of life with a beautiful mix of waterfront homes, townhomes, condominiums, and cozy bungalows.
Lifestyle & Amenities
Sailboat Bend brings the best of both suburbia and urban living to residents. Located close to all of the happenings of downtown Fort Lauderdale, the neighborhood also offers pockets of peaceful, suburban living and waterfront views.
Beginning in the community of Sailboat Bend is Fort Lauderdale's acclaimed Riverwalk Arts and Entertainment District. Hailed as "Florida's Most Beautiful Mile", the Riverwalk stretches for one mile along the New River and is a conglomeration of bars, restaurants, boutiques, a movie theatre, public art installations, parks, and gazebos. It is a trendy spot for residents to gather for a night out on the town or to enjoy a morning jog along the river.
Sailboat Bend Preserve is a slice of nature that transports visitors into a hidden garden filled with native plants, trees, and butterflies. Considered a pocket park, the area is small but a true respite for residents away from the hustle and bustle of life. The city has future plans for additional ecological preservation within the area.
Real Estate
The Sailboat Bend neighborhood has a wide array of real estate options meeting residents' needs. Offering luxury waterfront homes, affordable single-family residences, senior communities, townhomes, luxury mid-rise condos, and quaint bungalow-style cottages, Sailboat Bend caters to all walks of life.
Within Sailboat Bend's designated historic district, Craftsman and traditional style cottages can still be found, restored to their original charm. Waterfront homes provide stunning views of the New River and water deep enough to accommodate private docks for yachts and boats.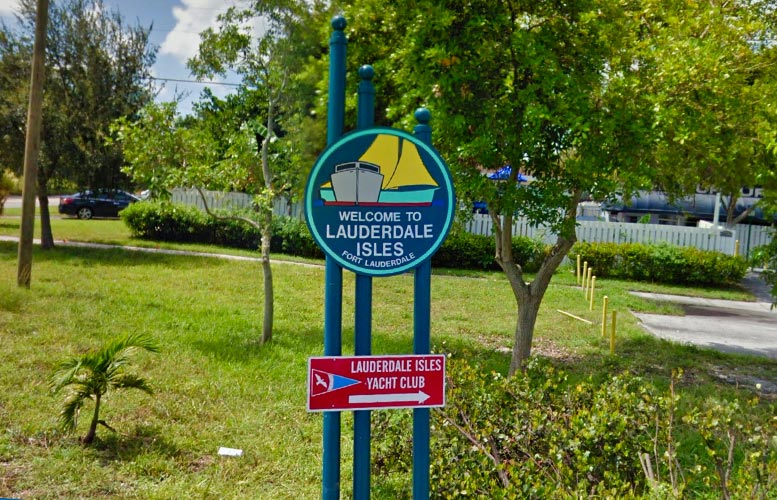 10. Lauderdale Isles
The Lauderdale Isles neighborhood is an enclave of thirteen small finger isles in South Fort Lauderdale on canals feeding into the New River. It is a close-knit community filled with people of all ages who appreciate a casual waterfront lifestyle close to all Fort Lauderdale's major thoroughfares and hotspots, the airport, and the bustling cruise ship hub of Port Everglades.
Lifestyle & Culture
Lauderdale Isles residents put an emphasis on growing a strong neighborly community while coming together for local events. The Lauderdale Isles Yacht Club has had a strong presence within the community since 1953. The club serves to support the pastime of yachting and boating while promoting a sense of camaraderie amongst its members. Since 2018 the club has been mobile, rotating its meetings and events at different locations throughout the area.
Less than ten minutes away is the Fort Lauderdale Country Club, established in 1926 and an integral part of the city's history. The club features two challenging, meticulously manicured golf courses, exceptional indoor and outdoor dining venues, and numerous holiday events.
Just a few minutes away is the Secret Woods Nature Center, a peaceful preserve with meandering nature trails and a butterfly garden. Adults and children alike can take part in the numerous educational classes and events that the center facilitates year-round to learn about Florida's unique flora and fauna.
Real Estate
The Lauderdale Isles area offers more affordable real estate options than some of the other waterfront communities in Fort Lauderdale, making the area highly attainable and attractive to homeowners. Inviting single-family homes are typically single-story with a mix of styles, including mid-century and contemporary.
Waterfront homes are plentiful and are equipped with private docks for boats. Launching areas are also strategically situated throughout the community for boaters' convenience. Many of the original homes feature remodeled interiors with modern decor, open floor plans, and updated kitchens, and beautiful tropical landscaping. A boat lover's paradise.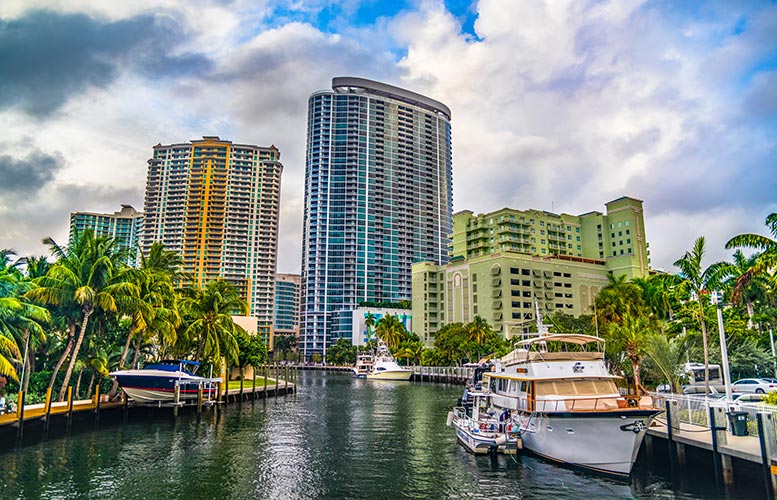 11. Downtown
Downtown Fort Lauderdale is a cosmopolitan, urban area with high-rise buildings and a bustling business center, but is just minutes from white sand beaches and salt sea air. Those craving a vibrant arts scene, one-of-a-kind restaurants, and lively bars, clubs, and breweries will find what they are looking for in the downtown area. Just minutes from the airport, beaches, and premier shopping destinations, the downtown neighborhood offers the best of laid-back urban living.
Lifestyle & Culture
The downtown Fort Lauderdale neighborhood is a unique fusion of urban city life with the tropical, resort-style vibe that is characteristic of the area. The downtown area offers so much more beyond the beach from museums and art galleries to a colorful nightlife scene.
Downtown has a variety of interesting museums to visit including the Naval Air Station Museum which displays everything from weaponry dating back to WWII to early military aircraft. The Museum of Discovery and Science is a perfect venue for all ages and provides opportunities to fly in a flight simulator and learn all about Florida's ecosystems.
A vibrant arts scene is present in downtown including numerous galleries and the FATvillage which serves as a four-block community for eclectic retail shops, artist performance spaces, and lofts. The Broward Center for the Performing Arts is one of the most attended theatres in the world and features Broadway performances, concerts, and family-friendly theatre productions.
The Galleria Mall is one of Fort Lauderdale's most popular hubs for shopping. The tri-level mall features exceptional restaurants and over 100 retail shops including big-name department stores and locally owned boutiques. Downtown Fort Lauderdale's nightlife does not disappoint with numerous bars, clubs, hip speakeasies, and craft breweries to choose from.
Real Estate
The downtown area is made up of primarily high and mid-rise luxury condominiums and townhome communities. Due to the area's proximity to the ocean and waterways, exceptional views of the ocean and canals can still be enjoyed by downtown residents. Many condominium communities offer high-end amenities such as onsite fitness centers and pools.
The area also features some pockets of single-family residences that vary in style from mid-century to modern contemporary and Meditteranean. A luxury downtown condo or home is perfect for those craving a lively, cosmopolitan atmosphere all within minutes from some of Florida's finest beaches.