The 7 Best Country Clubs in the Miami Area
Posted by Discover Homes Miami on Tuesday, December 15, 2020 at 4:01 PM
By Discover Homes Miami / December 15, 2020
Comment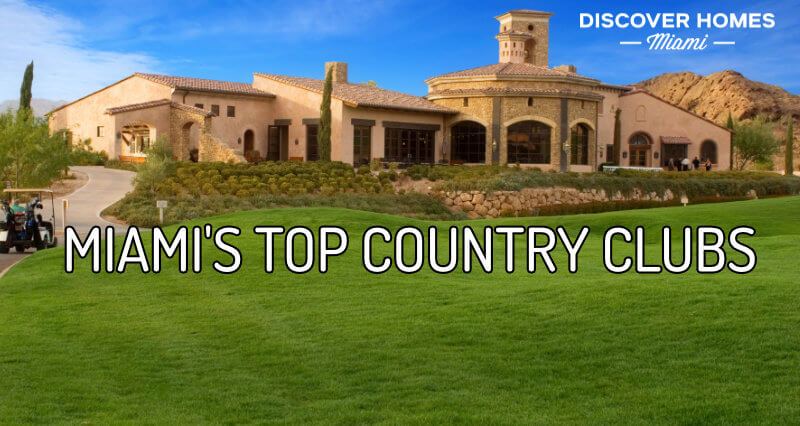 Looking for a new country club in the Miami area? Below, we've compiled a list of some of the best country clubs in the greater Miami area.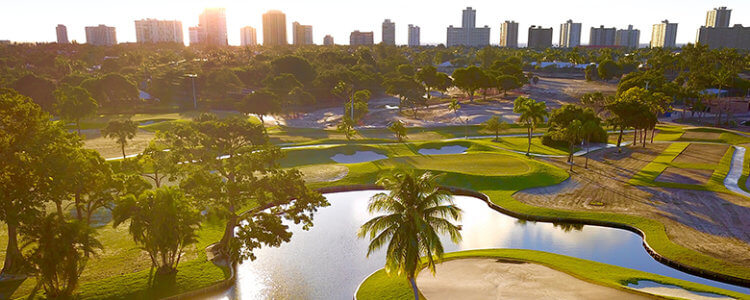 1. Coral Ridge Country Club
Located in Fort Lauderdale, Florida, Coral Ridge Country Club is a premier community with first-class amenities and offerings to its members. This is a sought-after club where the staff knows everyone by name and prides itself on fine dining, fantastic service, and second-to-none attention to details. The 9-hole golf course is well-maintained, challenging, and open with wide fairways.
Stop by the designated bar area for men after a round of golf and enjoy traditional cocktails and a variety of wine and beer. If you prefer a racquet to a club, guests rave about the well-groomed and pristine tennis courts. In fact, these courts are considered to be some of the best-maintained in the country, so it's a wonderful place to practice your game.
After you've done a few laps in the junior Olympic swimming pool, eat at one of the three dining locations. Fine dining and events are where this country club really shines. This is a fantastic spot to hold board meetings, private parties, and reunions. The staff holds their appetizers, dinner, and drinks to the highest standard, and members will leave happy and full after the experience.
On Friday nights, visit the sunken clubhouse bar and socialize with other members and enjoy half-priced drinks and activities for kids age 12 and under. There are events throughout the off-season so that adults and children alike can enjoy their membership no matter what time of year.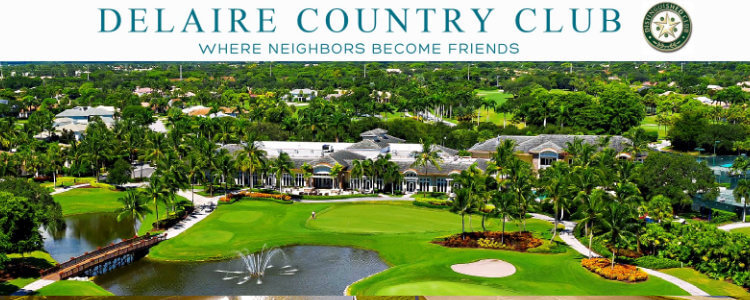 2. Delaire Country Club
Having earned the prestigious Distinguished Club award for the last six years, Delaire Country Club offers an intimate community with high-end amenities. The recently rebuilt clubhouse has expansive dining areas, state-of-the-art exercise facilities and acts as a premier place to hold private events and parties. There are move-in ready homes or building options so that you can enjoy all the amenities that Delaire Country Club offers its members.
Enjoy no tee times for the three 9-hole golf courses, just show up and hit the meticulously maintained greens and fairways. Members boast it's the best golf course and country club in the area. The onsite pro shop has all of the items you need to up your game.
Just like there is no tee time for the golf courses, there are no reservations for the tennis courts. Where many clubs have long waits to play their sport of choice, Delaire Country Club prides itself on its easy access courts.
There are plenty of activities for non-golfers and tennis players, including a fitness center with a variety of offerings like yoga, pilates, and strength training. Separate card rooms for men and women add to the old-school atmosphere of the club and superb dining options for its members and their guests make it a wonderful place for family gatherings.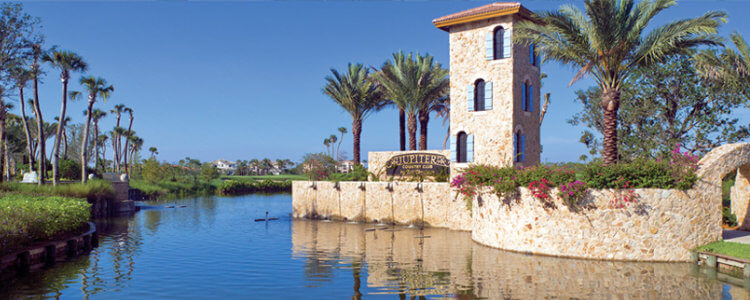 3. Jupiter Country Club
Jupiter Country Club is known for its impeccable service and staff. If seeking out a place to hold an event like a wedding, party, or business meeting, employees will go above and beyond to ensure that everything exceeds their members' expectations. From delicious food to event set-up, Jupiter Country Club will take care of everything and make your event unforgettable.
The surrounding community of single-family and carriage homes are conveniently located near the new Grand Clubhouse, with retail stores, pharmacies, and restaurants just a short drive away. Due to its convenient location, it's a fabulous place to live and spend your time.
First-class amenities offer a luxurious atmosphere for members to enjoy. The vast 23,000 square foot Grand Clubhouse was revealed in 2014 and has everything you'll need after a day of golf, hitting the tennis courts, or swimming laps, including bars, a private dining area, private shower suites, and a card room.
Jupiter Country Club has a state-of-the-art wellness center equipped with a wide variety of equipment, plus personal trainers and fitness classes. Members can even enjoy a massage after their workout from onsite masseurs. The golf course is impeccably maintained with wide, open fairways and a mix of forgiving and challenging holes.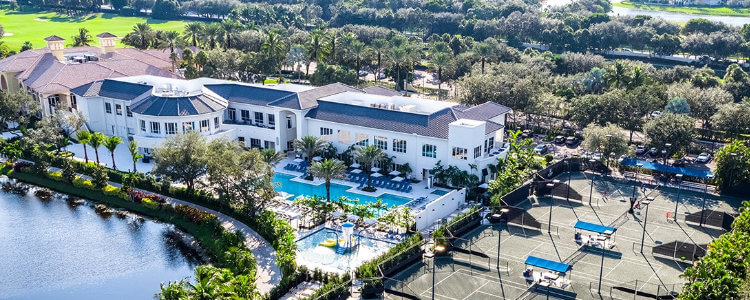 4. Mizner Country Club
Located in the beautiful area of Delray Beach, Florida, Mizner Country Club and its facilities are second-to-none. This is a wonderful community with beautiful homes that have been built with lake views and lush landscaping in mind.
Mizner Country Club offers membership to its residents in the surrounding community, and there is a limited number of non-resident memberships available, as well. Delray Beach is a hot vacation spot for tourists. While others take trips here, members of this country club wake up in a resort destination every day.
Private, well-maintained facilities make members feel like they are on an exclusive vacation getaway every time they visit. Members love the dining experiences from the Market, which sells coffee, sandwiches, and snacks, to the Craft Bar & Grill where nightlife comes alive. Spend your weekend mornings at brunch or enjoy a fine dining dinner experience with breathtaking views of the lake and manicured golf course.
A large wine cellar offers varietals to satisfy any palate. There are six cutting-edge tennis courts and an onsite full-service tennis pro shop that has all the equipment and apparel you'll need for a successful day on the greens.
Along with the tennis courts, there's a golf course that has something for all levels and an innovative fitness facility complete with physical therapists, personal trainers, and fitness instructors.
5. Parkland Golf & Country Club
Parkland Golf & Country Club in Parkland, Florida, is an upscale, premier golf location and community. This community offers single-family homes, condos, and townhouses built in 2003 or later, with new construction homes available. The golf course is a major attraction that has gorgeous views and an attentive, helpful staff to help in whatever way you need.
This course is well-maintained and has wide open fairways. There are challenging holes, but there's something for everyone along the way. Accomplished golfers will appreciate the golf experience, and those who are more relaxed in their game can still enjoy their time on the green. If golf isn't your sport of choice, there are ten tennis courts, a basketball court, and a state-of-the-art fitness center with a steam room, spa treatment suites, and a nail salon.
The golf course isn't the only thing to write home about, though. Parkland Golf & Country Club is a wonderful choice to hold a special event like a wedding, Bar-Mitzvah, or baby shower. Reasonably priced packages include delicious food and a highly-attentive group of planners and staffers.
Choose foods for your event with private tastings and be awed by how the staff transforms the Sports Club event space. From small gatherings of 20 people to large weddings of 300, Parkland Golf & Country Club will take care of all of the details so that you can focus on your guests.
6. St. Andrews Country Club
St. Andrews Country Club in Boca Raton, Florida, is dedicated to providing a luxurious experience for its members and residents. It certainly lives up to its "World-class Everything" motto, as well as the esteemed award of being designated as a Distinguished Club of the World.
Like many country clubs, golf is the main attraction, and for a good reason. There are 36 holes available designed by famed golfers Arnold Palmer and Tom Fazio II. These courses offer challenges for even seasoned golfers.
Don't be surprised if you come across a professional golfer, the St. Andrews Country Club is a destination for some of the best golfers in the US. Rainy days won't stop a full day of golf, either. There is a Golf Performance Center on site that has an indoor hitting bay and a private area to practice.
Those who aren't golfers will still love the experience that St. Andrews Country Club provides. As expected in such an upscale locale, the facilities are impeccably maintained and up-to-date. There are card rooms for both men and women, fine and casual dining, tennis courts, and a fitness center to keep residents busy.
The spa is a major selling point of the club, including steam rooms, hot tubs, nail and hair salons. This country club is a resident-only club, with around 730 families living in the surrounding homes. Golf, water, and greenbelt views make the community quintessentially Florida.