Belle Isle, Miami Beach, FL: Bayfront Island Community
Posted by Discover Homes Miami on Wednesday, March 17, 2021 at 9:45 AM
By Discover Homes Miami / March 17, 2021
Comment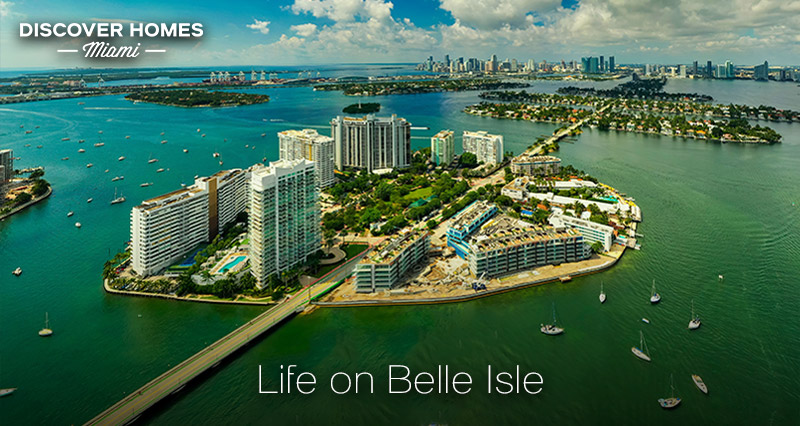 Belle Isle is an idyllic island in the glistening Biscayne Bay located in the City of Miami Beach. It is one of six islands that make up the string of Venetian Islands. As the easternmost Venetian Island, Belle Isle is just minutes away from lively Miami Beach via the famous Venetian Causeway bridge.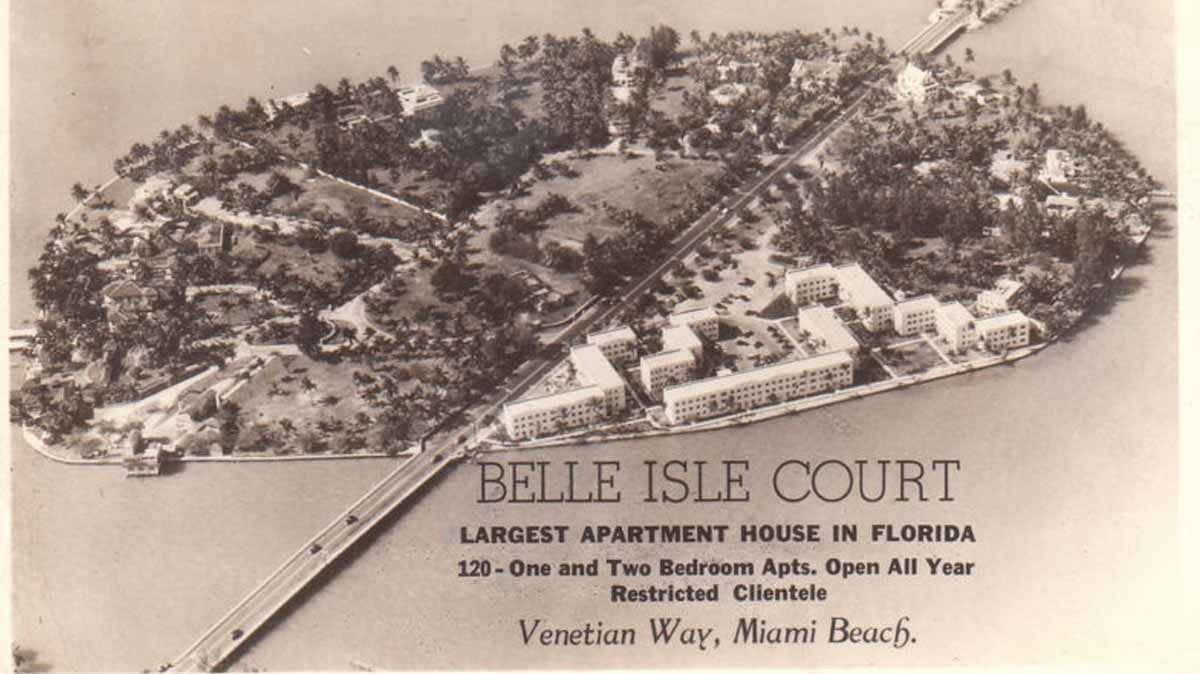 Advertisement from the 1940s for an apartment development on Belle Isle. The complex (Belle Isle Court) was demolished in 2018.
History
Belle Isle's history dates back to Miami Beach's creation by an avocado farmer named John S. Collins and entrepreneur Carl G. Fisher. In 1912, Collins began constructing the Collins Canal and the Collins Bridge, a 2.5-mile wooden bridge that is now the Venetian Causeway. Fisher assisted with the bridge's financing in exchange for land that he later developed into residential plots.
Belle Isle is not an artificial island, whereas the other Venetian Islands are man-made. Belle Isle's original footprint was enlarged using sand that was dredged during the creation of the Collins Canal. At the time, it was a completely undeveloped mangrove grove.
Fisher was a dynamic visionary. His marketing skills quickly established Belle Isle as a tropical paradise for celebrities, politicians, and the business elite. In the 1920s, Fisher staged the widely popular Biscayne Bay Speed Boat Regatta on the island, attracting tourists and wealthy snowbirds worldwide. The retail tycoon J.C. Penny made the island his home and entertained guests such as Herbert Hoover at his palatial estate.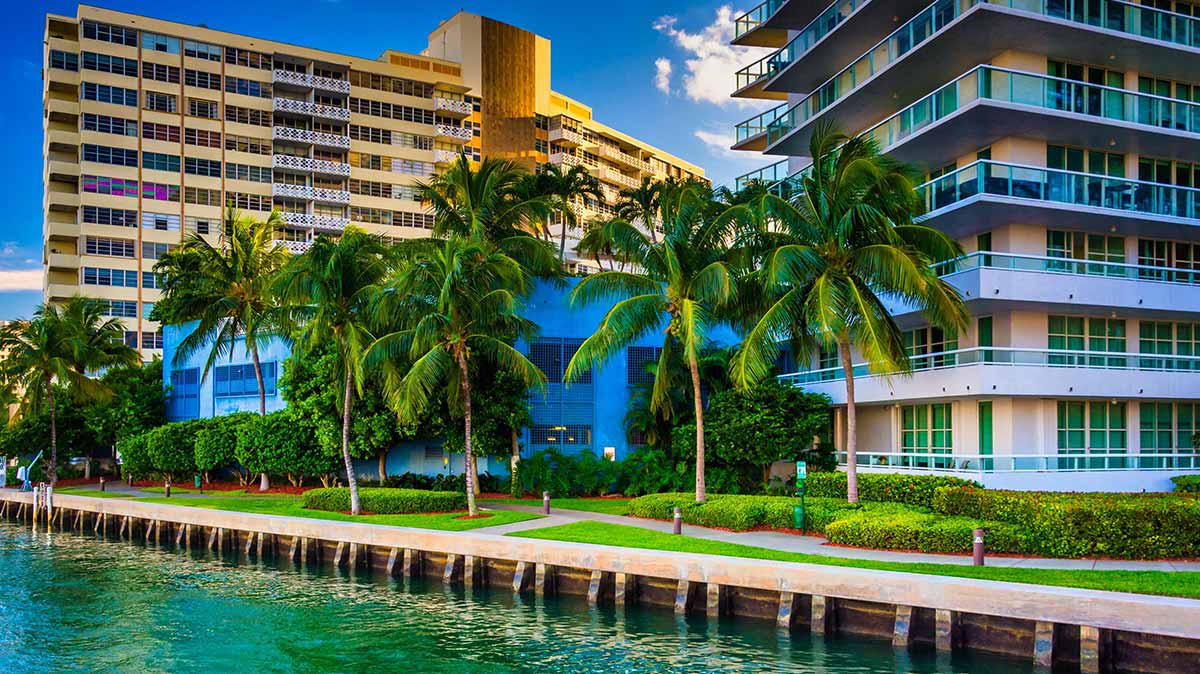 Some of the palm trees and green space along Belle Isle's border.
Lifestyle & Amenities
The Belle Isle community is active, taking full advantage of the plentiful sunshine and white sand beaches. Outdoor activities, including boating, kayaking, and paddleboarding, are common pastimes of area residents. Belle Isle's recently refurbished community park is a paradise for all ages, with a shaded playground complete with play structures and picnic areas.
At Belle Isle Park, dog lovers can enjoy the Florida sunshine with their canines in the two gated dog park areas. The two gated areas are located near the park's center and are segregated between small and large dogs with ample sitting areas for dog owners.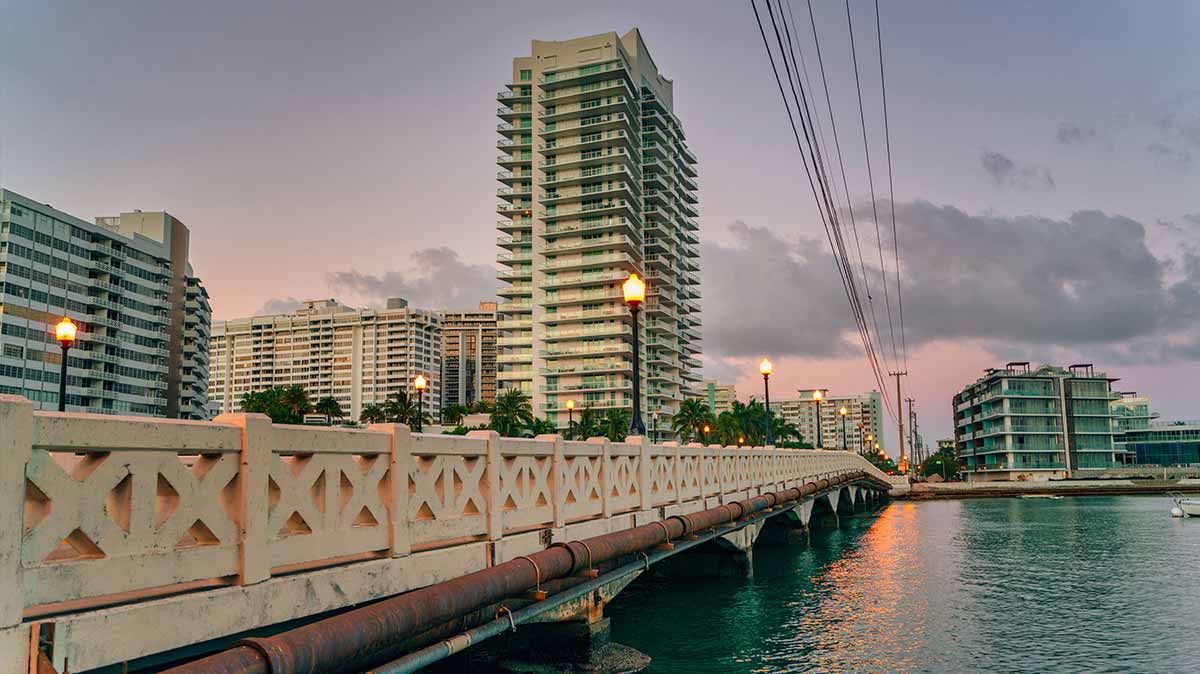 The Venetian Causeway leading into Belle Isle from South Beach
While the Venetian Causeway plays a vital role in connecting the Venetian Islands, it is also a favorite route for runners, walkers, and cyclists. Residents also enjoy unencumbered bay views, sights of beautiful homes, and cool breezes. These are just a few of the reasons Belle Isle residents love getting out and about along the Venetian Causeway.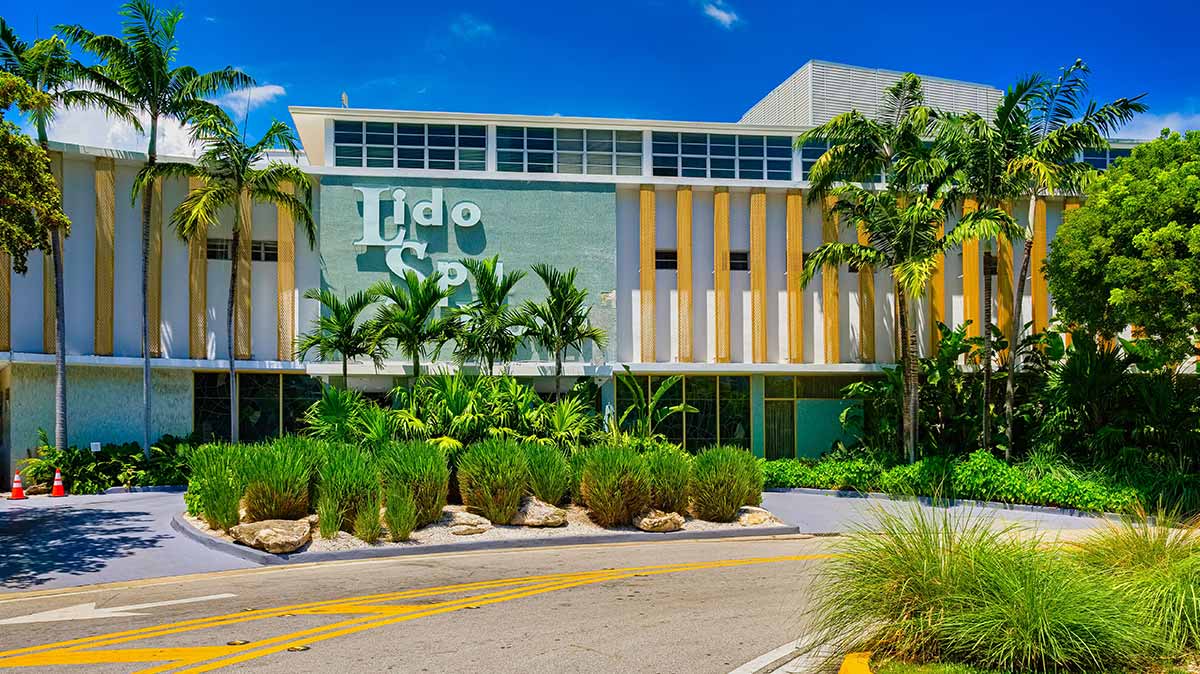 The Standard Hotel on Belle Isle with its iconic Art Deco architecture. Credit: Fotoluminate LLC - stock.adobe.com
The Standard Hotel is an Art-Deco-inspired spa and hotel located on Belle Isle. The hotel has become a contemporary icon in the Miami Beach area, attracting artists, celebrities, and fashionistas worldwide. This hip hotel features a hydrotherapy spa, an arctic plunge pool, a hot tub, and serene tropical gardens. Rooms include deep soaking tubs and balconettes to take in sparkling bay views.
Belle Isle is a small island, and long-time residents comprise this close-knit community dedicated to the preservation, safety, and appreciation of the area. In 2004 the Belle Isle Residents Association was established to carry out these goals and serve as a voice for community residents. All Belle Isle residents are encouraged to join the association and improve the island's quality of life.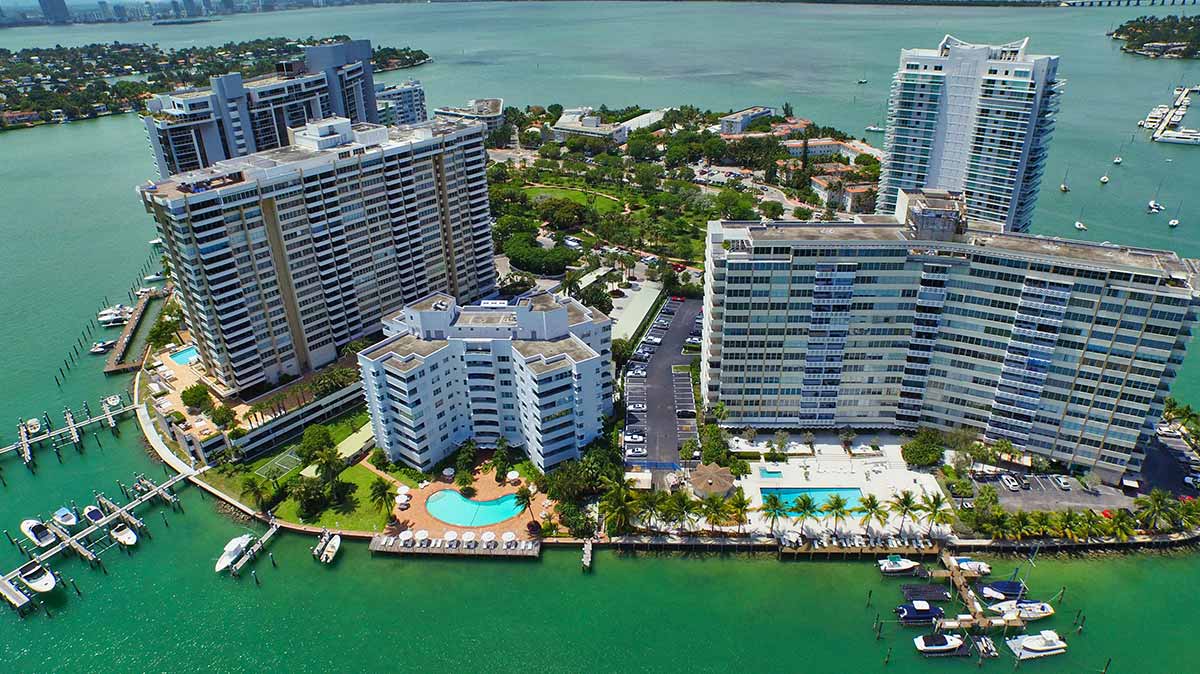 Some of the condo buildings on Belle Isle
Real Estate
Belle Isle is one of the few islands in South Florida offering luxury high and mid-rise condominium options in addition to single-family residences. The island has over seven condominium properties that vary in styling from retro Art-Deco exteriors to sleek, modern architecture befitting the Miami Beach skyline.
All condo sizes are available including well-appointed studios to posh penthouses with multiple balconies, expansive living space, and stunning views of Biscayne Bay. Many properties boast amenities such as state-of-the-art fitness centers, pools, tennis courts, sun decks, and clubrooms.
Belle Isle also has beautiful single-family residences on the island, despite not being as plentiful as the luxury condo options. These residences are an eclectic mix of historic, remodeled homes from the 1930s and 1940s to multi-level modern masterpieces of glass and exotic building materials. Condo and single-family homeowners alike enjoy Belle Isle's prime location, unbeatable bayfront views, swaying palm trees, and intimate feel just minutes from the heart of Miami Beach.
Additional Reading
Belle Isle is just one of six islands in the Venetian Islands. Check out our writing on the other islands: