Living in Bal Harbour, FL: 2021 Community Guide
Posted by Discover Homes Miami on Tuesday, March 2, 2021 at 7:49 PM
By Discover Homes Miami / March 2, 2021
Comment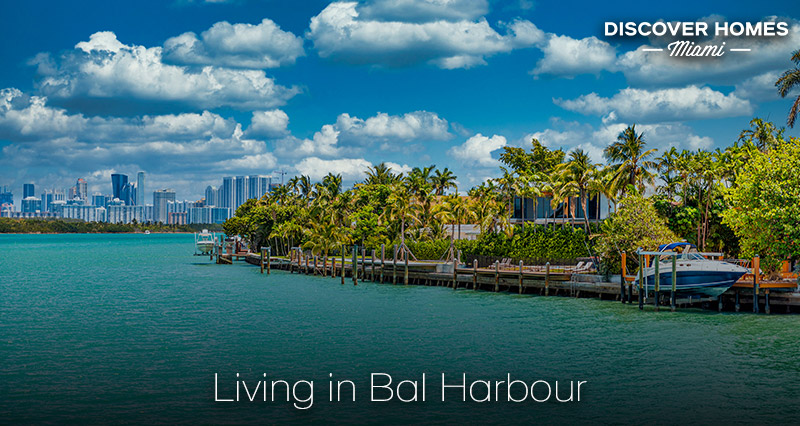 Situated at the northernmost tip of Miami Beach, Bal Harbour is a small, affluent town with a population of just over 3,000. Spanning just over 10 blocks, Bal Harbour runs north to south from Haulover Inlet to 96th Street and is bounded by the Atlantic Ocean and Biscayne Bay. Although downtown Miami is a mere 40 minutes drive away, the hustle and bustle of the big city never seems to encroach upon daily life here, and tranquility reigns supreme.
Bal Harbour is a tight-knit community, with day-to-day life revolving around the pristine beach, luxury shopping, and excellent restaurants. In sharp contrast to the buzzing and exciting neighborhoods further to the south, nothing much happens in Bal Harbour; and that's just the way residents here like it.
Bal Harbour provides an exclusive, idyllic enclave for a diverse array of residents and boasts some of the most exclusive real estate in the country, including ultra-luxury high-rise developments with next-level amenities, privacy, and stunning views. Let's take a closer look at what makes Bal Harbour such a desirable place to live.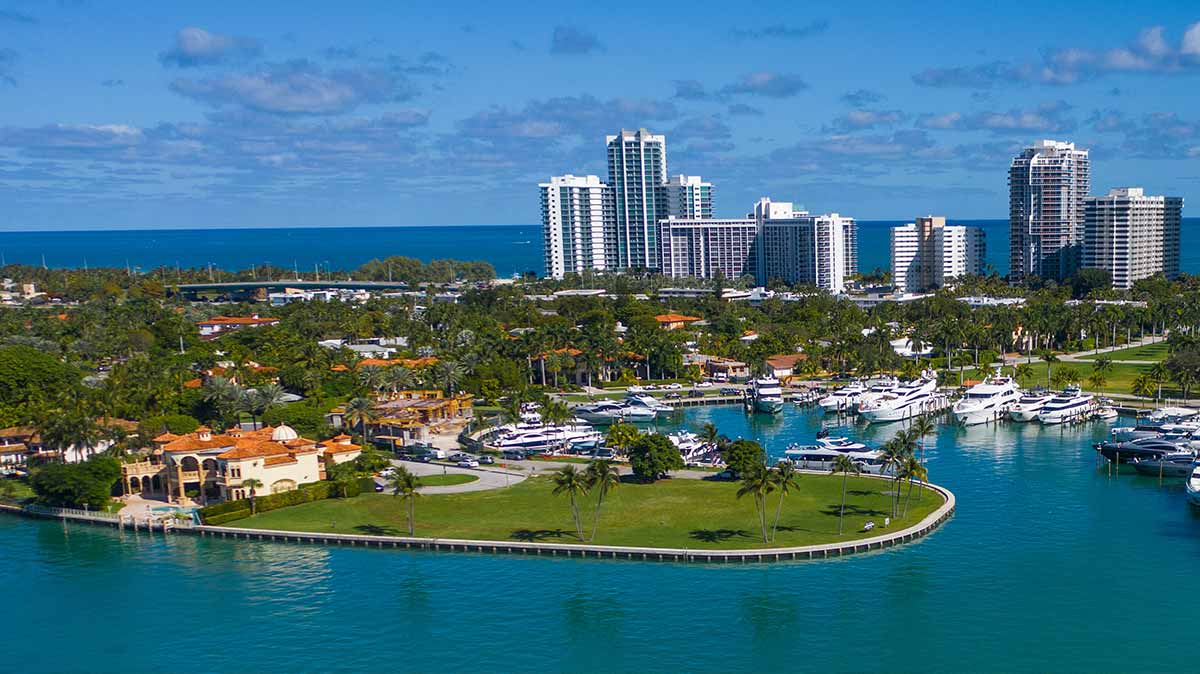 Bal Harbour skyline
Lifestyle and Culture in Bal Harbour
Featuring a well-planned village setting, with beautiful green spaces and tree-lined sidewalks, Bal Harbour is a supremely walkable neighborhood. Residents enjoy strolling or biking to cafes, shops, and the beach.
For trips further afield, Bal Harbour's convenient location means that residents can drive to downtown Miami in as little as 40 minutes and Fort Lauderdale in half an hour. Collins Avenue runs through the center of town and provides easy access to the vibrant neighborhood scenes further south and parks, beaches, and shopping to the north.
South Florida's wonderful climate means that Bal Harbour residents can enjoy an outdoor lifestyle year-round. Although summers can be hot and muggy, the Atlantic Ocean's breeze keeps things bearable, and the humidity seldom feels overwhelming.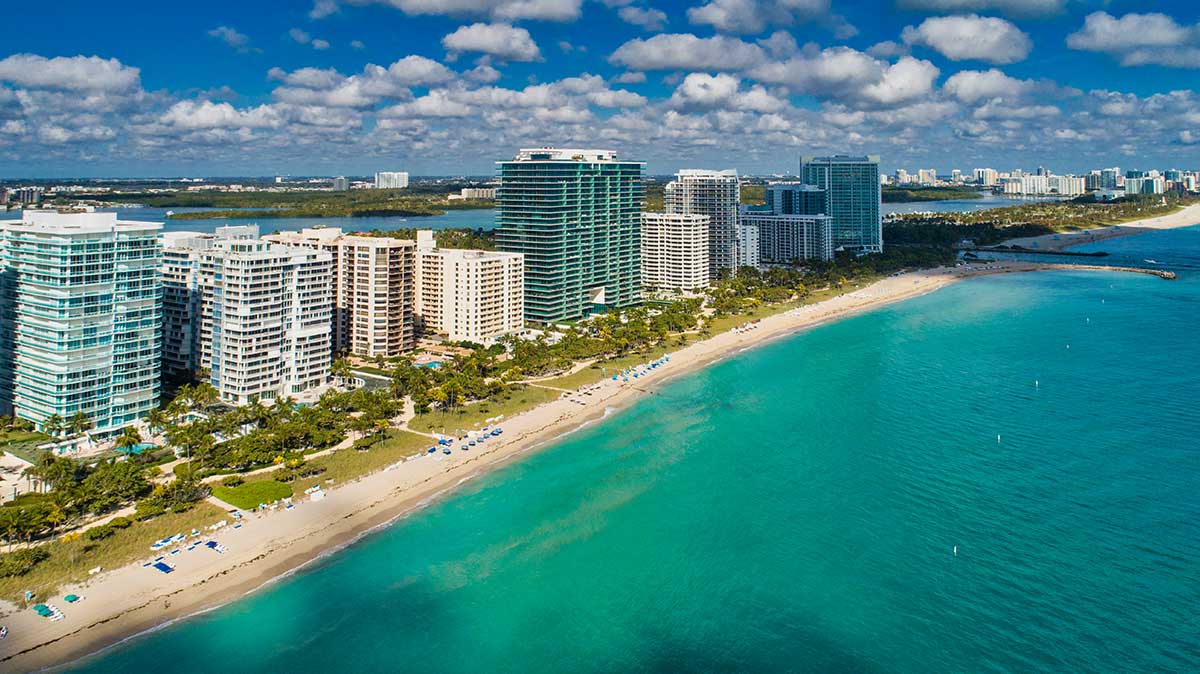 Bal Harbour's pristine beaches
The beach here is one of Miami's most pristine and protected, and locals never tire of its white, sugary sand and clear, aquamarine water. The Bal Harbour Beach Walk runs the beach's length and is a favorite place to walk, run, or cycle, while nearby Haulover Park is a popular spot for Bal Harbour families to spend the day.
The majority of the local shopping and dining scene is centered around Bal Harbour Shops, an upscale outdoor shopping mall featuring luxury boutiques and high-end restaurants. Bal Harbour's luxury hotels also provide various dining options, and residents enjoy innovative cuisine from restaurants in the St Regis Bal Harbour Resort, Seaview Hotel, and Ritz-Carlton Bal Harbour.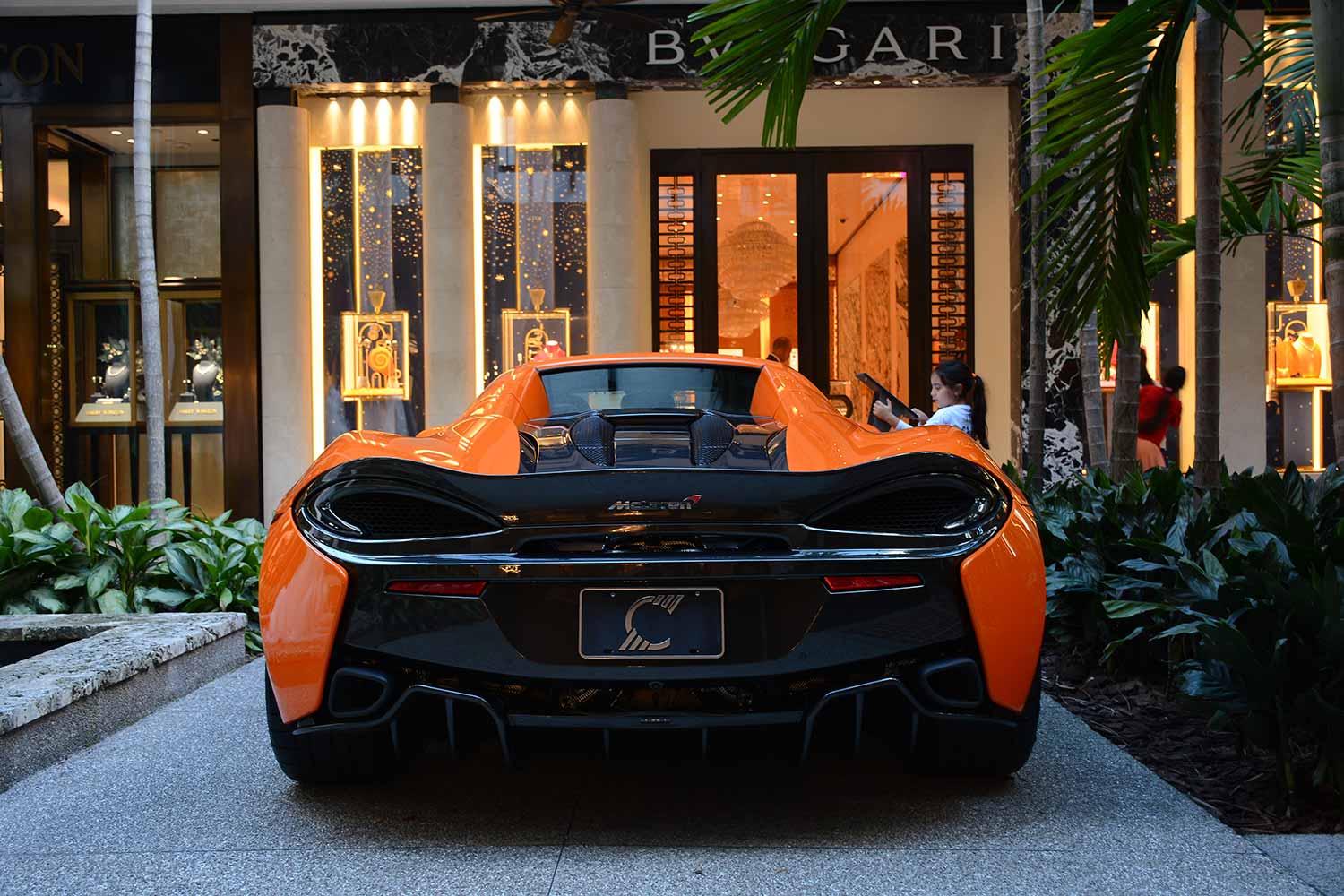 McLaren car for sale in Bal Harbour Shops. Credit: photravel_ru / Shutterstock.com
Just to the south, Surfside is a popular shopping and dining destination, and Bal Harbour locals have easy access to Harding Avenue, with its eclectic collection of holistic spas, chic boutiques, cafes, and top-notch restaurants. Further afield, Aventura Mall provides a full-on shopping spree destination, replete with luxury stores, restaurants galore, and even a 93-foot slide!
Art and culture are integral to life in Bal Harbour, best illustrated by "Unscripted," a city program founded in 2013 with a mission to support the arts in South Florida and put Bal Harbour on the cultural map. This program commissions public art displays throughout Bal Harbour and provides visitors with free access to cultural institutions throughout the Miami area.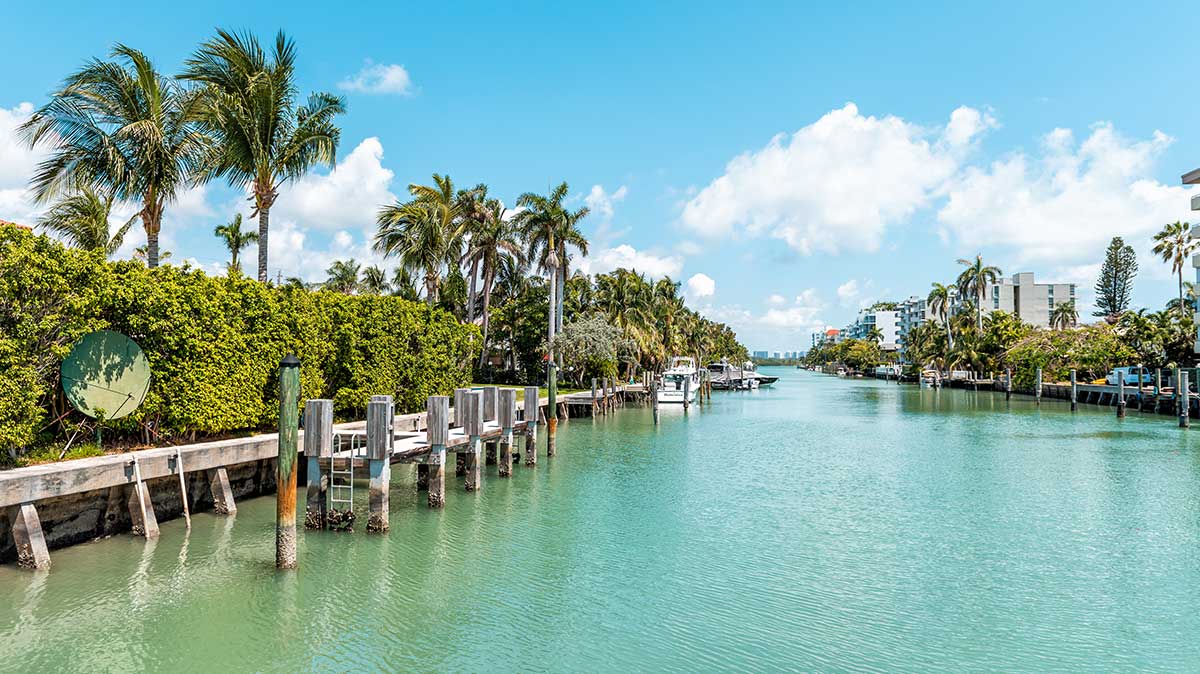 The waterway that separates Bal Harbour from Bay Harbor Islands. Credit: Kristi Blokhin / Shutterstock.com
Public art is everywhere in Bal Harbour, most notably along the Beach Walk, where rotating exhibitions are always on display. Fifty images and text pieces line the pathway, providing cutting-edge contemporary art that offers residents new ways to interact with space.
Bal Harbour residents enjoy coming together as a community, and events are scattered throughout the year. In keeping with the town's low-key vibe, many of these events are laid-back, family-friendly affairs like movie nights or free yoga on the beach.
More high-profile events are held regularly at Bal Harbour Shops, including social galas, fashion showcases, and boutique open houses. A highlight of the local calendar is Haute Cuisine, an annual multi-day event featuring visiting chefs, dinner parties, and cooking classes.
Things to Do in Bal Harbour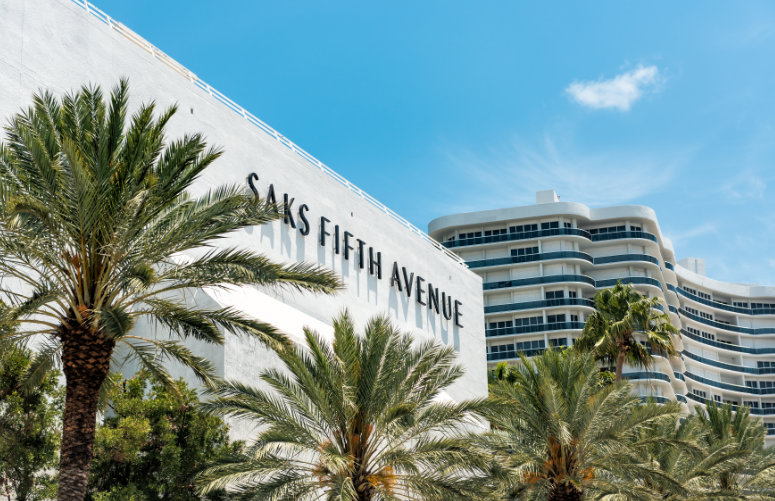 Saks Fifth Avenue at Bal Harbour Shops. Credit: Kristi Blokhin / Shutterstock.com
Bal Harbour Shops
Bal Harbour Shops is a world-famous shopping and dining destination. This walkable outdoor mall features gorgeous tropical landscaping, providing a relaxing place to peruse the stores or sit for a while and enjoy the shady trees and gurgling pools.
Bal Harbour Shops is a legendary fashion mecca, with designers like Stella McCartney, Alexander McQueen, Chanel, and Gucci all represented. This is a destination for celebrities, socialites, and fashionistas from all over the world, and there's a regular schedule of events and parties.
This upscale mall is ground zero for Bal Harbour's dining scene, and there's a wide variety of options, including top-class Italian, chic French cuisine, and innovative Japanese fusion.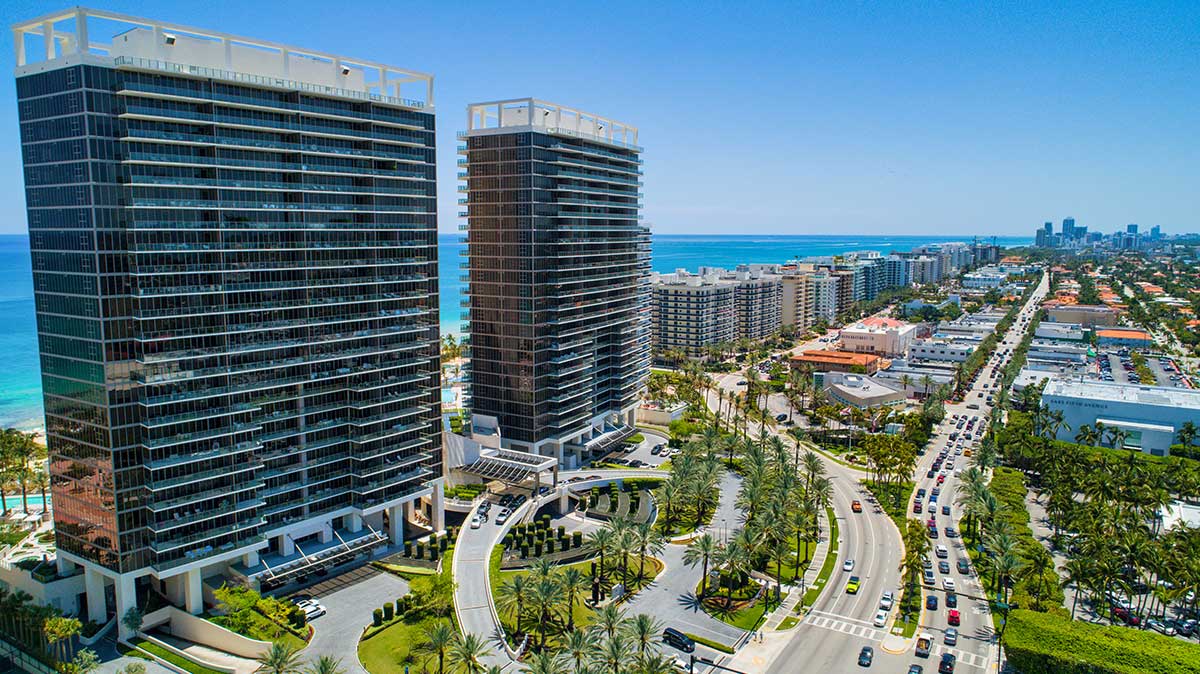 St. Regis Bal Harbour
St. Regis Bal Harbour Resort
Directly across from Bal Harbour Shops, this exclusive resort is an exclusive enclave of oceanfront elegance and exemplary service.
The Remede Spa is perfect for those days when you need to be pampered and features 11 treatment rooms, a Vichy rain shower, a Finnish sauna, and an aromatic steam room. The sleek, modern design is second to none, and extra touches like heated marble floors, cashmere throws, and poolside cabanas make it hard to leave!
The St. Regis Bal Harbour Resort offers plenty of activities to keep the kids happy while you relax at the spa and multiple dining options for later in the day. There's a popular burger bar here and a stylish French restaurant, and a fantastic Greek restaurant that locals can't get enough of.
Surfside Farmers Market
Surfside lies just to the south of Bal Harbour, and its Farmers Market is a popular local tradition. The market is held on Sundays from 9 am to 3 pm, at the corner of 95th Street and Collins Avenue, and is a great place to pick up fresh, locally grown fruit and produce.
The Surfside Farmers Market features dozens of vendors selling herbs, spices, body care products, and snacks. This is also the place to come for indoor and outdoor plants and chic, bohemian clothing, and there's always a relaxed, family-friendly atmosphere.
Surfside Third Thursdays
Surfside Third Thursdays is a beloved local tradition that's been going strong for over 10 years. This family-friendly block party is held each month during the winter season, from January through April. It brings the whole community together for a fun-filled evening of live entertainment, music, and an array of delicious food.
This free extravaganza features 3 zones. The first is where the entertainment and live music happens, and there are always giveaways and photo ops. The second zone focuses on community culture, with family-friendly and wellness activities on offer, and the third zone features food trucks and a hydration station.
Surfside Third Thursdays have a unique and fun theme each month and always draw a huge crowd of locals and visitors.
Parks and Recreation in Bal Harbour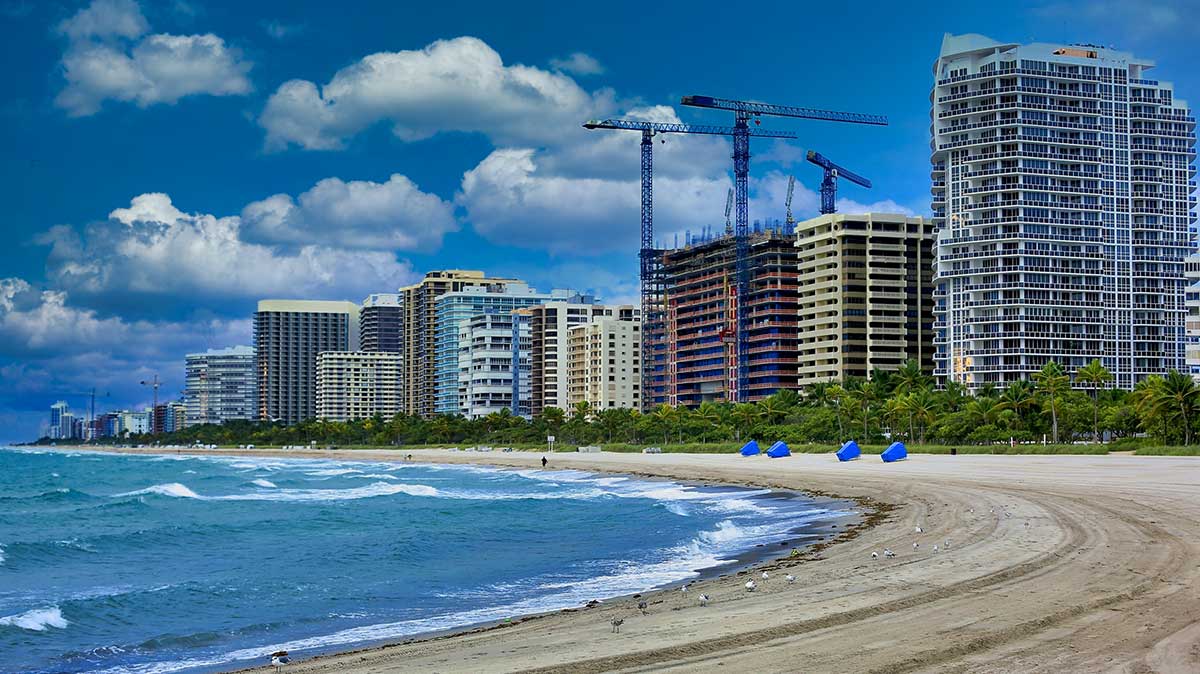 Bal Harbour beaches
Bal Harbour Beach
Bal Harbor residents are rightly proud of their beach, and spend much of their time here, sunbathing, swimming, and playing. This 1-mile stretch of beach features the kind of sugary sand that most of us have only ever seen in our dreams, and the sparkling turquoise water is about as clear as it gets.
The wonderful Beach Walk runs the beach's length and offers a beautifully landscaped, shady place to take a stroll and enjoy the ocean views. At Bal Harbour's northern tip, the seawall jetty extends into the ocean, providing a popular spot for local fishermen, as well as those who want to take in the views while enjoying the ocean breeze.
There's plenty of metered parking nearby, and stainless steel showers line the Beach Walk, offering a convenient way to clean off before heading back to town. This tranquil beach never feels crowded, and there are often free local events like yoga classes and movie nights.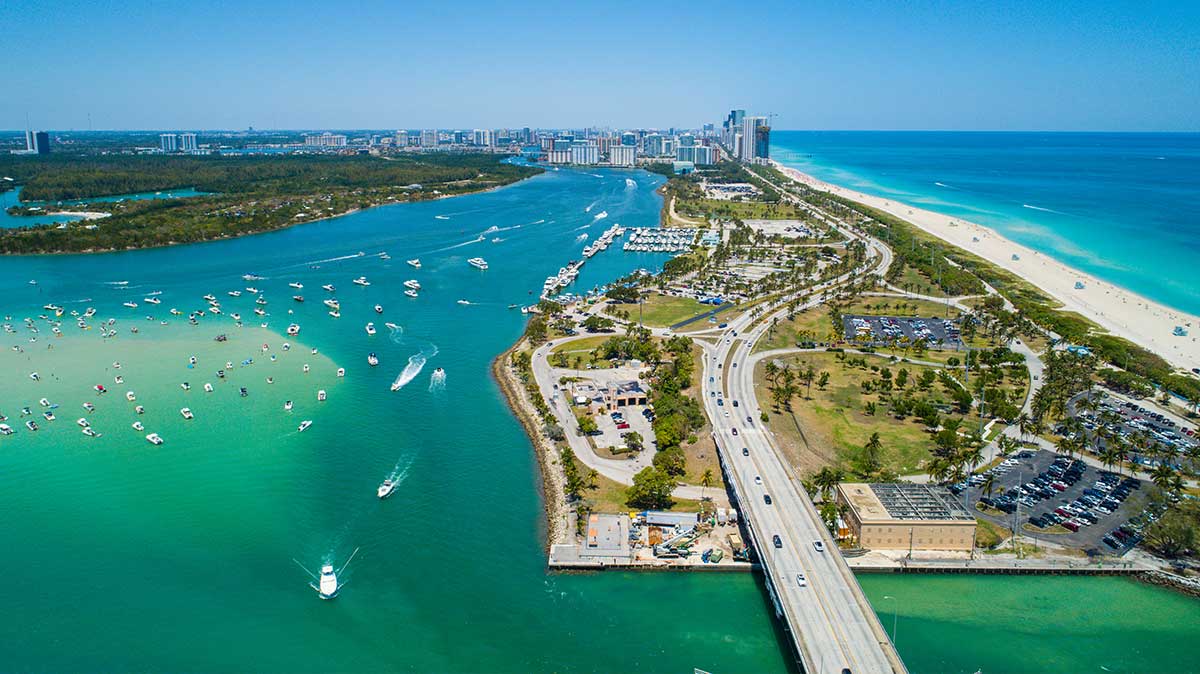 Haulover Park and Marina
Haulover Park
Haulover Park is an enormous 177-acre wonderland located just across Bal Harbour's northern bridge. This super-popular park has been in operation since 1948 and features pristine beaches, restored sand dunes, and palm tree-shaded picnic areas. There's a popular marina here and a fishing pier, and many fishing and diving boats set out from Haulover Park.
Haulover Park features a fantastic dog park, and there's an off-leash beach at the southern end. There's also an epic 7,500 sq ft skate park and pump track, and further north, there's an infamous clothing-optional section of beach for those who want a real all-over tan.
Events are held throughout the year at Haulover Park, including Food Truck Tuesdays, which always draw a large crowd, and free kite festivals, which feature outrageous aerial creations.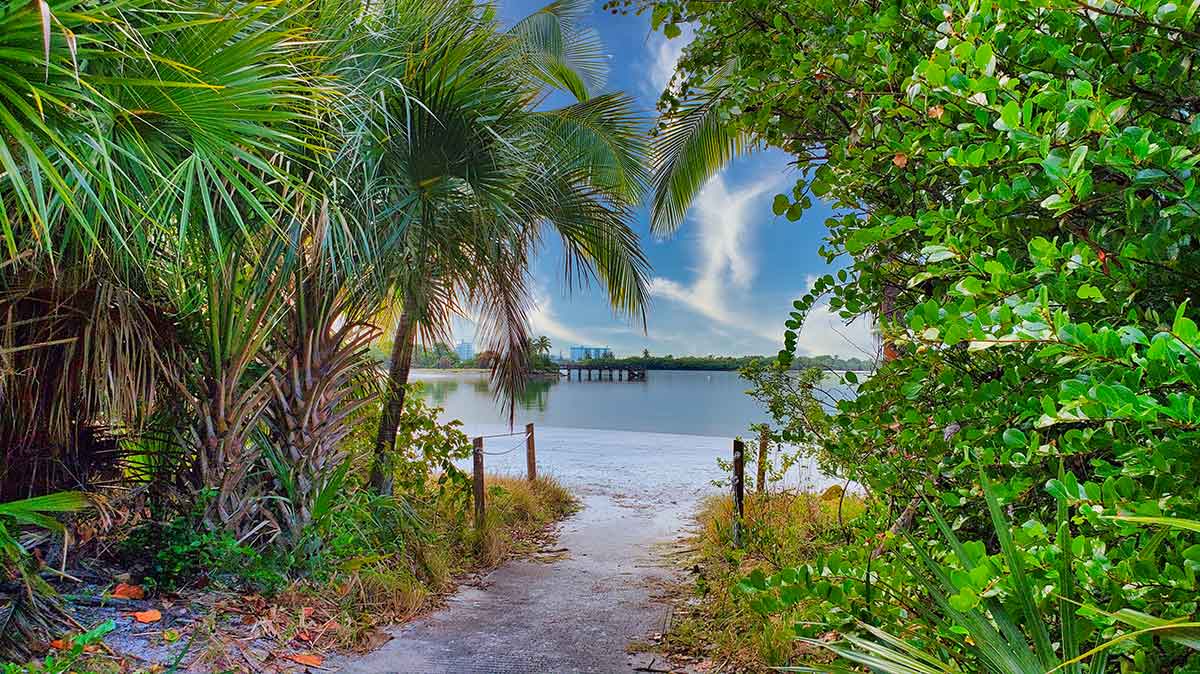 Oleta River State Park
Oleta River State Park
Florida's largest urban park, Oleta River State Park, is an oasis that has to be experienced to be believed. This protected river estuary encompasses over 1,000 acres of greenery in Biscayne Bay and provides a tranquil environment for swimming, hiking, biking, camping, and kayaking.
Kayaking is one of the best ways to experience Oleta River State Park, and kayaks and stand-up paddleboards are available to rent. Cruising through the clear, calm waters, you'll see tangled mangroves, birds, fish, and crabs, and you'll quickly forget that you're actually in the middle of an urban area.
Three miles of nature trails provide another way to explore the park. All trails lead to a small sandy beach, and along the way, there are flowers, tropical trees, and plenty of opportunities to see dolphins and manatees. The beach is a perfect place to take a dip after a sweaty hike, and the water is crystal-clear.
Oleta River State Park also has a few cabins and a rustic campground for those who want to spend the night in this magical place.
Normandy Shores Golf Club
Located a few minutes south, in the Normandy Shores neighborhood of North Beach, this popular, family-friendly golf course has been a local favorite for over 50 years.
Maintained by the City of Miami Beach, Normandy Shores has undergone a $9 million renovation, with a major redesign by architect Arthur Hills. The spectacular 18-hole, par-71 course is immaculately maintained and provides a beautiful environment for golfers of all skill levels.
Normandy Shores offers Sunday Family Fundays, with free admission for juniors, and there are individual or group lessons available for all ages. The course features a pro shop and practice facilities and the Normandy Shores Grill, a popular spot with a full bar and a wonderful outdoor patio.
Surfside Community Center
This multipurpose oceanfront facility, located on Collins Avenue in Surfside's heart, is a popular place for family-friendly fun on a hot day.
Long a venue for community events and gatherings, Surfside Community Center also features a recreation pool with lap lanes, a plunge pool, waterslide, and a kids' activity pool. For local kids, this is the place to be during the summer months, and the on-site snack bar is fully stocked with ice cream, burgers, and salads.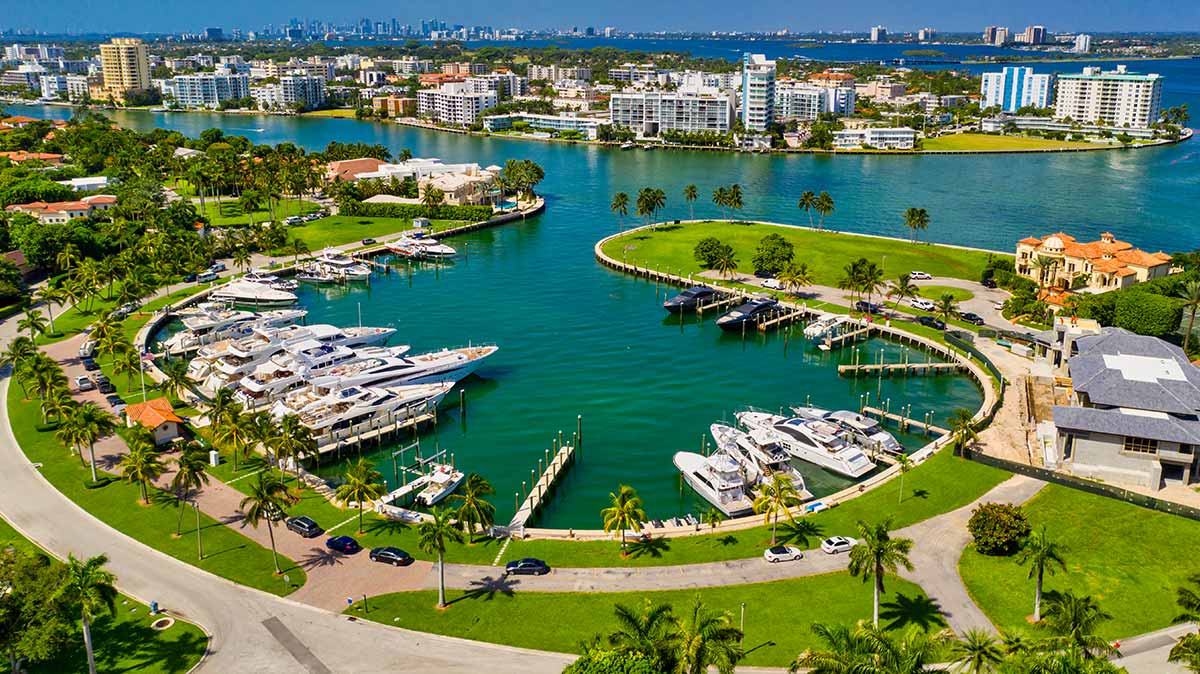 The luxurious Bal Harbour Marina
Bal Harbour Real Estate
Some of the most exclusive and expensive real estate in the entire country can be found in Bal Harbour, attracting buyers who seek luxury, privacy, and a peaceful environment.
The western side of Bal Harbour is where you'll find large single-family homes in the Village of Bal Harbour. This prestigious gated community offers a 24-hour guard service and convenient access to the Bal Harbour Yacht Club and Bal Harbour Marina.
Collins Avenue is dominated by a collection of ultra-luxury high-rise condo buildings, each offering an array of services and amenities.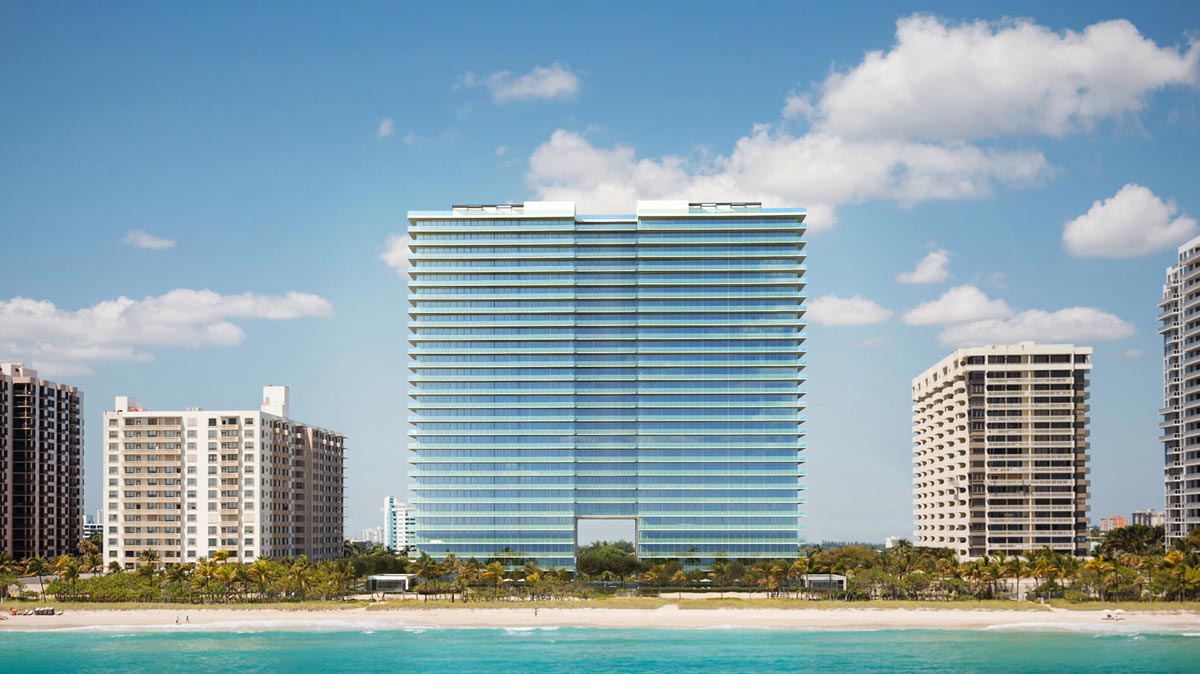 Oceana Bal Harbour
Located within walking distance of Bal Harbour Shops, this 28-story building houses an amazing collection of luxury residences, each with a flow-through floor plan that offers unobstructed views of the Atlantic Ocean, Biscayne Bay, and the Miami skyline. Residences feature floor-to-ceiling windows, extra-deep balconies for outdoor living, gourmet exhibition kitchens, and 10-ft ceilings.
Oceana Bal Harbour offers 5-star amenities, including a spa/fitness center, private cinema, Olympic-sized pool, leisure pool, and tennis courts. There's a 400-ft private beach with cabanas and beach-side service, a restaurant and cafe, as well as 24-hour security, valet, and concierge.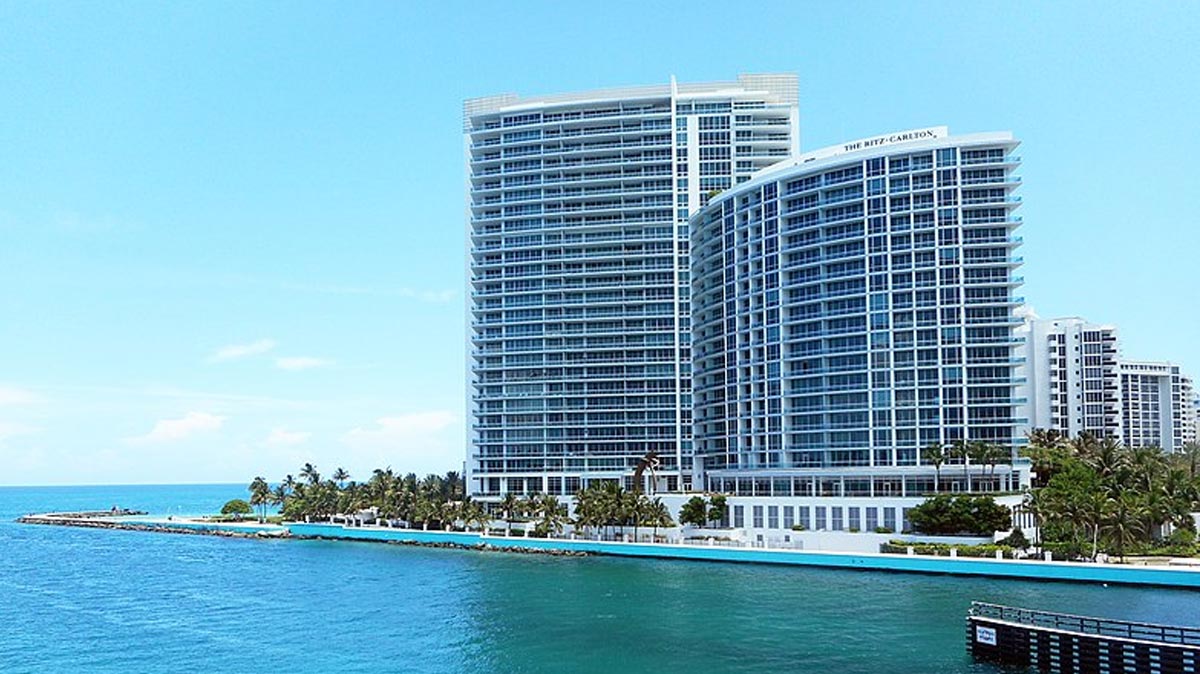 St Regis Ball Harbour from the Haulover Inlet. Credit: Danilel Di Palma
St. Regis Bal Harbour
These light and airy residences feature huge private balconies, floor-to-ceiling windows, and 10-ft ceilings. Kitchens are enormous and feature state-of-the-art appliances, while bedrooms feature European cabinetry and imported stone flooring.
Residents of St. Regis Bal Harbour enjoy almost limitless amenities, including access to all hotel services. There's a private pool, reserved for residents, 24-hour in-room dining service, private chef and catering services, and pickup service from Bal Harbour Shops. Other amenities include pet services, nanny service, and 24-hour transport to or from the airport.
One Bal Harbour
This 26-story building is one of the newer Bal Harbour towers and is attached to - but separate from - the Ritz-Carlton Bal Harbour hotel.
Residences feature amazing kitchens, with Wolf appliances and impressive marble bathrooms, as well as private elevator foyers. Every detail features a level of luxury that's difficult to surpass. Residents have full access to all hotel services, including 24-hour valet, housekeeping, room service, and a full-time concierge to assist with travel, dining, and entertainment arrangements.
Nestled at Bal Harbour's northeastern tip, besides the inlet and the ocean, living at One Bal Harbour means having convenient access to shopping, dining, and the wonderful beach.
Additional Reading
Bal Harbour is surrounded by plenty of equally luxurious and interesting communities, which we've also written about: