Living in Aventura, FL: 2021 Community Guide
Posted by Discover Homes Miami on Wednesday, April 7, 2021 at 9:10 PM
By Discover Homes Miami / April 7, 2021
Comment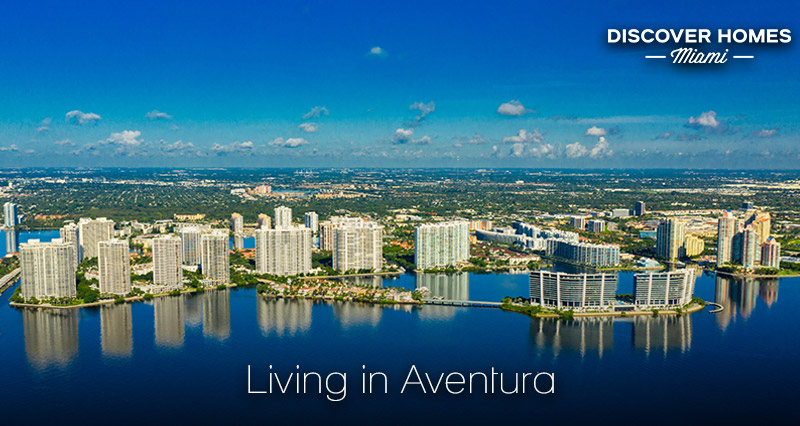 Lying between Biscayne Boulevard and the Intracoastal Waterway, Aventura is located in northeast Miami-Dade County, roughly 13 miles north of Downtown Miami and 15 miles south of Fort Lauderdale.
Aventura's development as a planned community began in the 1970s, and the city was incorporated in 1995. Today, this clean, upscale community of over 36,000 residents is one of the most sought-after places to live in the Miami area.
Aventura is most famous for its enormous shopping mall, but there is so much more to this charming city. People from all over the world are drawn to Aventura, attracted by its super-convenient location, tranquil atmosphere, and proximity to gorgeous beaches, ample parks, and a wide variety of real estate options.
Let's dive into what makes Aventura such a desirable place to live.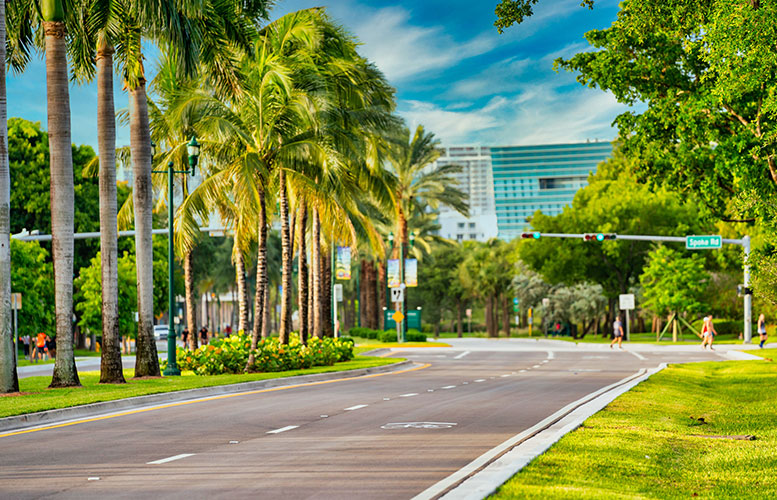 Country Club Drive in Aventura
Lifestyle and Culture in Aventura
Aventura's convenient location is one of the city's most attractive qualities. Residents can reach Downtown Miami in less than half an hour, Fort Lauderdale in 40 minutes, and beautiful beaches in around 5 minutes. Although traffic congestion can be an issue, many Aventura residents make the daily commute to either Miami or Fort Lauderdale.
For those who prefer not to sit behind the wheel, Miami Metrobus provides regular service throughout the area, also connecting to the regional Tri-Rail commuter network. Getting around Aventura is easy, thanks to the awesome free shuttle buses, which connect to shopping areas, cultural centers, and neighborhoods. There's also a popular bike-share program, and locals can often be seen cruising around their city on two wheels.
Folks in Aventura love spending time outdoors, and thanks to South Florida's wonderful climate, it's possible to live an active outdoor lifestyle throughout the year. Aventura has a well-planned and thoughtful layout, with plenty of beautiful green spaces. Although summers can get hot and muggy, it's always possible to find relief beneath the trees that line pleasant residential streets and fill the numerous parks.
Running, walking, and cycling are all popular ways to get exercise here, and the Don Soffer Exercise Trail provides a circular 3-mile paved trail that's shady and tranquil. Nearby Founders Park exemplifies Aventura's forward-thinking design, offering locals a fantastic multi-use green space right in the heart of the community. This diverse park features sports fields, walking trails, and tropical gardens and hosts many community events.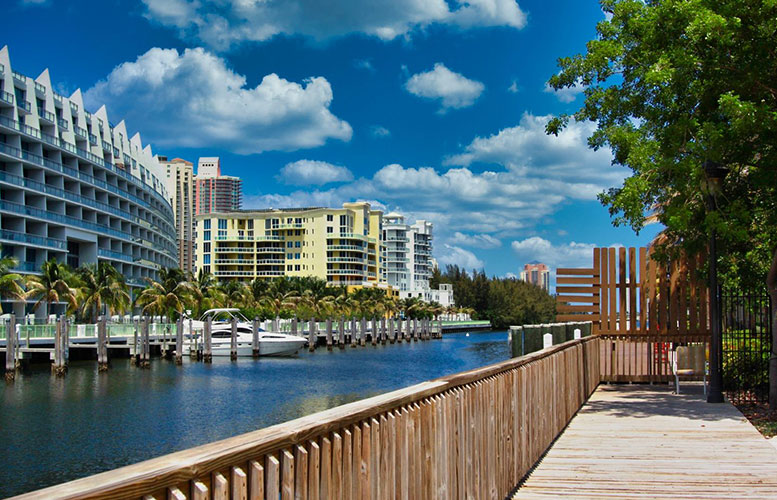 Waterway in Aventura
Aventura's many waterways and canals provide ample opportunity for water-based fun, with boating, kayaking, and numerous water sports among the most popular weekend activities here. There are several busy marinas in Aventura, and locals love nothing more than setting sail for a fun-filled day on the water. Miami's world-famous beaches are within easy reach of Aventura, too, and it's only a 5-minute drive to some of the most beautiful white-sand beaches on the planet.
When it comes to shopping, Aventura residents are spoiled for choice, with many options within easy walking or cycling distance. Trendy Biscayne Boulevard is lined with an eclectic collection of strip malls, housing a wide variety of boutiques and galleries. Town Center Aventura is one of the more popular shopping destinations in the city, offering shops, restaurants, and bars in a pleasant outdoor setting. Locals come here to browse the latest fashions and hang out and watch the world go by.
The biggest shopping draw in the city is Aventura Mall, an enormous development that brings visitors from all over the region. There are hundreds of stores here and a mind-boggling array of restaurants, and there are always fun events and fashion showcases to keep things interesting.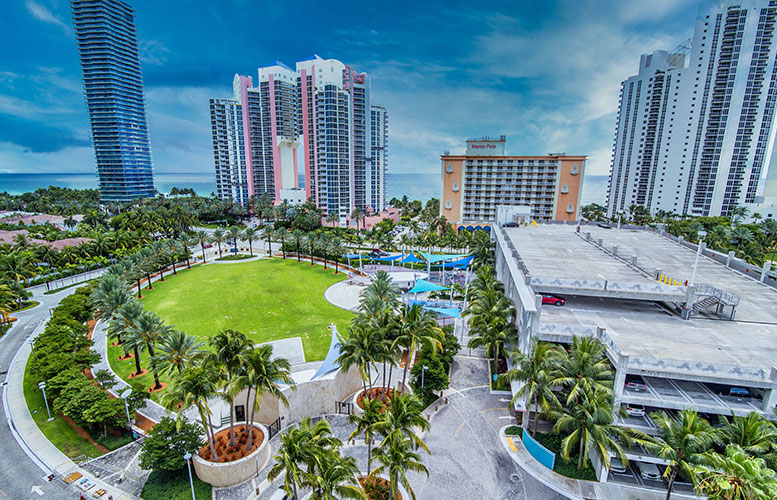 Miami is famous for its diverse and exciting food scene, and Aventura is home to some of the most well-renowned restaurants in the metro area. There's food from every corner of the globe on offer here, from Peruvian to Japanese, and restaurants range from casual undiscovered gems dishing up Argentinean comfort classics to world-famous, chef-driven restaurants serving cutting-edge cuisine.
JW Marriott Turnberry Resort is home to a couple of Aventura's most exclusive dining spots, including Bourbon Steak, by Michael Mina. This is the place that locals come to for special occasions that demand exquisite food in elegant surroundings.
Nightlife in Aventura is low-key by Miami standards, but that's the way locals like it. Aventura after dark is a story of craft cocktails in cozy bars and dinner in a favorite local restaurant. When locals crave a more exciting night out, Miami Beach's frenetic club and bar scene is a short drive south.
Living in Aventura means having easy access to Miami's vibrant art and culture, including museums like the Frost Science Museum, with its incredible aquarium and planetarium, and performance venues like Arlene Arsht Center and American Airlines Arena. Closer to home, Aventura Arts and Culture Center provides a community hub for the local performing and cultural arts scene. This modern building in a gorgeous setting offers free events and acts as an important gathering space for the community.
Things to Do in Aventura

Aventura Mall
Aventura Mall is the largest shopping destination in Florida and the second-largest mall in the United States. Anchored by retail giants Nordstrom and Bloomingdale's, Aventura Mall is a gigantic shopper's paradise, home to over 300 stores offering electronics, home goods, jewelry, clothing, and so much more. Aventura locals and regional visitors come here to browse the latest offerings from Gucci, Cartier, Apple, and Adidas before stopping in at one of the many casual favorites in the expansive food hall.
There's an awesome AMC movie theater here, too, as well as several options for a more upscale dining experience. Aventura Mall isn't just about shopping, though. There's also an impressive collection of museum-caliber art on display throughout the mall, including sculptures, colorful murals, and the Aventura Slide Tower - a super-fun sculpture that's also a functional slide.
Áme Spa and Wellness Collective
Spanning three floors and occupying 25,000 sq ft of space in the JW Marriott Turnberry Resort, Áme Spa and Wellness Collective is where Aventura residents come when it's time to be pampered in style. The spa takes a holistic approach to wellness and offers 65 unique treatments, including massage, exfoliation, and facials.
There's an expansive wellness circuit on offer here, including a Himalayan salt room, a Swiss shower, and steam rooms with aroma, chroma, and music therapy. On top of all that, Áme Spa also offers fitness classes, yoga, meditation, and full nutritional consultations. After a relaxing and rejuvenating session at the spa, guests can lounge by the serene resort swimming pools, taking advantage of the upscale poolside menu.
Aventura Arts and Cultural Center
The Aventura Arts and Cultural Center opened in 2010 to improve the quality of life in Aventura by providing a wide variety of cultural programming and performing arts. Housed in an elegant, modern building, this high-tech facility provides a 330-seat venue with incredible acoustics. The interior is bright and airy and offers magical views of Biscayne Bay to those who are waiting to enter the theater.
The Aventura Arts and Cultural Center has become an important gathering place for the community. Besides hosting a variety of performances, the center also plays host to numerous free community events. A number of educational shows occur here, and local kids are encouraged to have a great time learning from literature-based performances. There's also a popular summer theater camp, which allows local kids to take singing, dancing, and acting classes.
Gulfstream Park
Gulfstream Park is one of the most popular and exciting outdoor venues in the Miami area, drawing thousands of visitors each year. Located just north of Aventura, in Hallandale Beach, Gulfstream Park is most famous for its thoroughbred horse racing track, but there's much more on offer here, too.
A mix of adult- and family-friendly activities make Gulfstream Park a unique destination, with nightclubs, a casino, and a fantastic bowling alley among the most popular destinations here. The adjacent Gulfstream Village offers an array of boutiques, cafes, bars, and upscale dining options in a pleasant outdoor environment, and there's plenty to keep the little ones occupied, including weekly events, classes, workshops, and fun live music performances.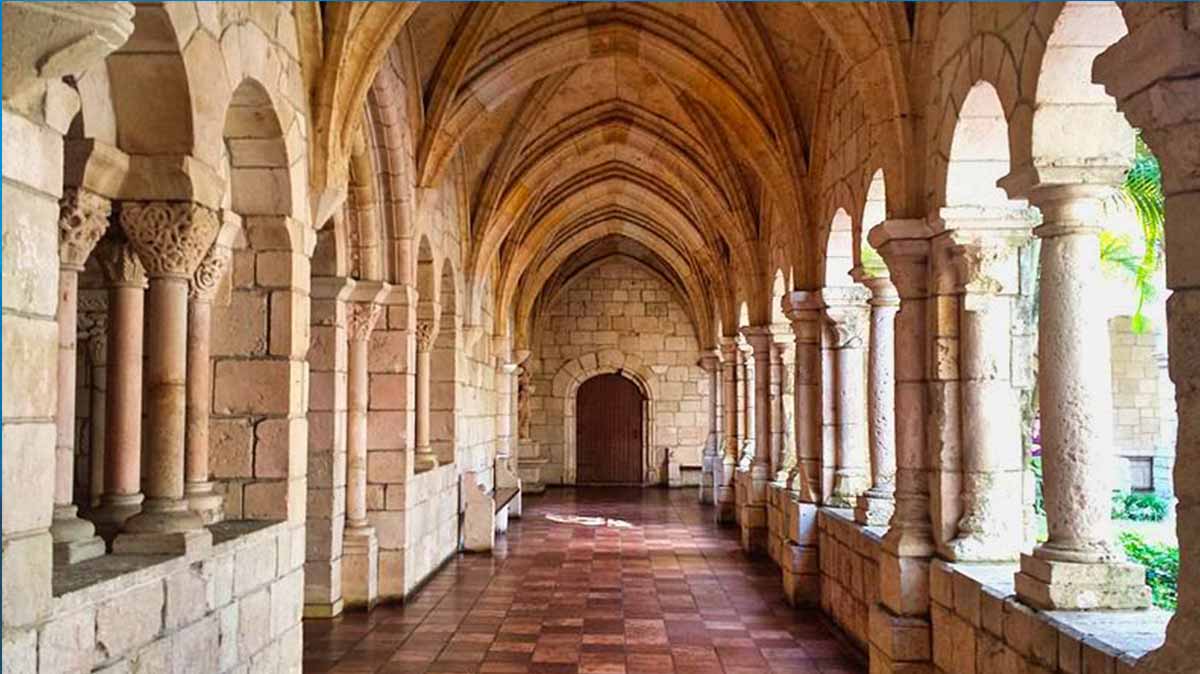 Ancient Spanish Monastery
For a unique and completely fascinating experience, this ancient Spanish monastery is well worth a visit. It's located in North Miami Beach, about 10 minutes drive south of Aventura. Originally constructed in Segovia, Spain in the 12th century, the monastery was dismantled during a period of social upheaval in the 1830s and turned into a granary and stable.
In 1925, William Hearst purchased the building and had it shipped to the US. The story continues with many twists and turns, leading to the monastery's eventual reconstruction at the cost of $20 million. Today, the "biggest jigsaw puzzle in the world" is owned by the Episcopal Diocese of Southeast Florida and offers English and Spanish services. It's a great place to experience a beautiful and historic European building, and the friendly staff are always on hand to tell the whole story.
Parks and Recreation in Aventura
Founders Park
Centrally located Founders is the most popular park in Aventura, offering 12 acres of space for playing and relaxing. The park is divided into two regional sections, each with a different feel.
The northern section of Founders Park is home to a welcome center staffed by friendly locals who are always ready to help. There's a quarter-mile trail with adult exercise stations, a children's playground, sun shelters, and picnic tables here, as well as tennis courts, an athletics field, and a wonderful splash pad. On the weekends, this part of Founders Park is packed with locals enjoying picnics and playing team sports. The southern section is more serene, offering a tropical landscaped walkway that's ideal for strolling and enjoying the views across the Intracoastal Waterway.
Tidal Cove Waterpark
For a fun-filled day that's both relaxing and invigorating, Aventura locals hit Tidal Cove Waterpark. Part of the amazing JW Marriott Turnberry Resort, this waterpark offers a family-friendly atmosphere that's buzzing on hot summer days. Best of all, Aventura residents can enter the park at a discounted rate.
Tidal Cove features seven waterslides, a 4,000 sq ft kids pool with an interactive play structure, and an innovative stationary surfing machine that's ideal for practicing before heading over to the Atlantic Ocean. There are dozens of luxury cabanas available here, and those lucky enough to secure a reservation have a comfortable place to hang out by the pool. The cabanas feature TVs, stocked mini-fridges and loungers, and the option to order poolside service from the waterpark restaurant.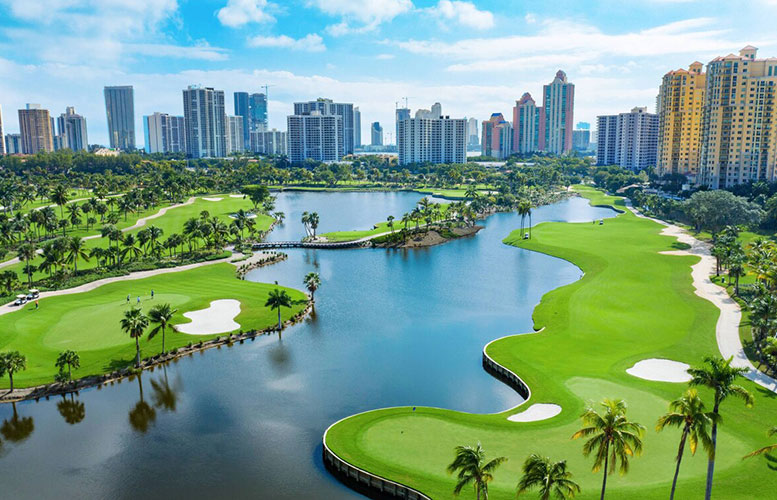 Golf Club at JW Marriott Turnberry Resort
Golf is an extremely popular pastime in this part of Florida, and the golf club at JW Marriott Turnberry Resort is one of the most prestigious in the Miami area. The golf club here features two legendary 18-hole courses, both of which have played host to numerous SF PGA and LPGA tournaments.
Soffer course is the longest, featuring creeks that cross the fairways and lagoons to avoid. This is an incredibly picturesque course and the more challenging of the two. Miller course is a strategic gem that demands accuracy at every hole. A highlight of this course is viewing nesting pink flamingos on Lake Julius. The Golf Club at JW Marriott Turnberry is a wonderful place to play a round with friends and also features a fully-stocked pro shop, a relaxing clubhouse, and a driving range and putting green.
Samson Oceanfront Park/Sunny Isles Beach
Just across the Intracoastal Waterway in Sunny Isles Beach, Samson Oceanfront Park is a mere 5-minute drive from Aventura. This park offers a beautiful, colorful setting, featuring shady palm trees, tropical flowers, and impressive public art. Super-popular with locals, Samson Oceanfront Park features shaded pavilions with tables, a kids' playground, showers, and a solar-powered charging station with USB outlets.
There's public beach access here, too, and the volleyball areas are always crowded with locals getting their game on. The beach features pristine white sand, and the Atlantic Ocean's crystal-clear waters are warm and refreshing. There's a calm, laid-back vibe here, and the beach never feels overcrowded. It's the perfect place to relax and enjoy the sun and the company of friends and family.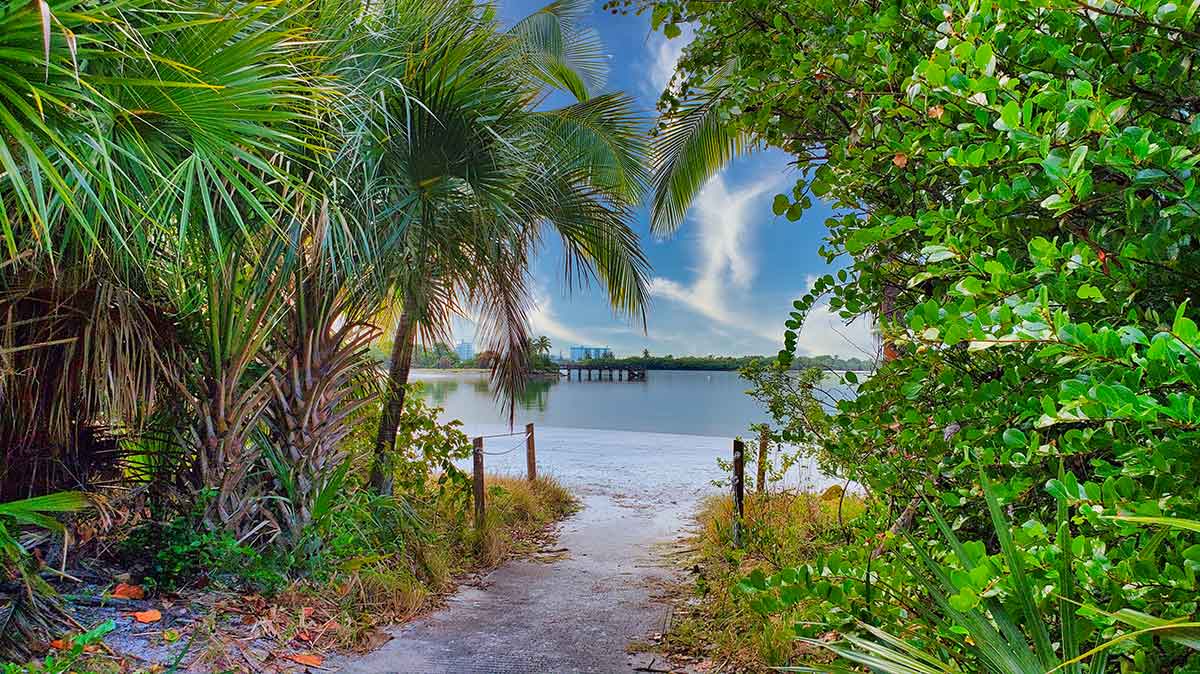 Oleta River State Park
Florida's largest urban park, Oleta River State Park, is an oasis that has to be experienced to be believed. This protected river estuary encompasses over 1,000 acres of greenery in Biscayne Bay, providing a tranquil environment for swimming, hiking, biking, camping, and kayaking, just a 10-minute drive south of Aventura.
Kayaking is one of the best ways to experience Oleta River State Park, and kayaks and stand-up paddleboards are available to rent. Cruising through the clear, calm waters, you'll see tangled mangroves, birds, fish, and crabs, and you'll quickly forget that you're actually in the middle of a metropolitan area.
Three miles of nature trails provide another way to explore the park. All trails lead to a small sandy beach, and along the way, there are flowers, tropical trees, and plenty of opportunities to see dolphins and manatees. The beach is a perfect place to take a dip after a sweaty hike, and the water is clear and refreshing.
Aventura Real Estate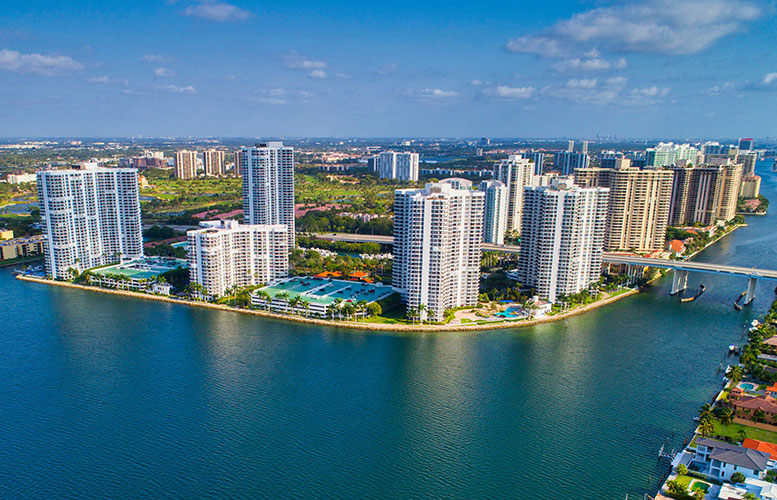 There's a fairly wide variety of real estate options in Aventura, ranging from modest homes to ultra-luxury condos. Many of the most sought-after properties are in gated communities like Chateau Gardens and Portsview at the Waterways, where you'll find upscale luxury single-family homes and opulent properties with canal access. Away from the water, real estate options include more approachable single-family homes and condos in modest low-rises.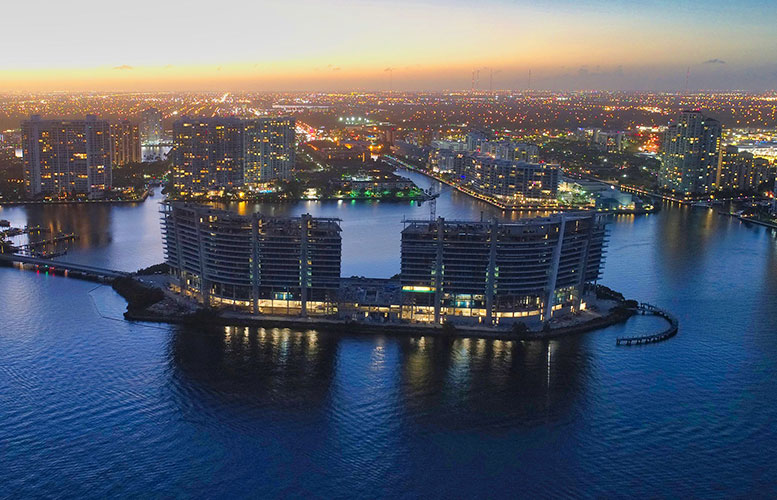 Príve Island at night
Príve Island
Príve Island is an ultra-luxury condo development on an 8-acre private island in the calm waters of the Intracoastal Waterway. The development comprises twin luxury towers, each with 79 bespoke residences. Units here feature expansive floorplans, 10-ft ceilings, floor-to-ceiling windows, European-style kitchens, and huge terraces that offer incredible views. Penthouse residences in Príve Island have private rooftop terraces with swimming pools and outdoor kitchens. This stunning development offers resort-style amenities, including swimming pools, lighted tennis courts, a private marina, a jogging trail, and so much more.
Echo Aventura
Echo Aventura is a gorgeous condo development on 5 acres of Aventura waterfront. There are 190 luxury residences in Echo Ventura, all featuring a flow-through design that offers unobstructed water and surroundings views. Residences feature floor-to-ceiling windows, 10-ft ceilings, and huge terraces with outdoor kitchens. Inside, there are gourmet kitchens, midnight bars in the generous master suites, and bathrooms with oversized soaking tubs. Echo Ventura amenities include an infinity pool with Atlantic Ocean views, a 4,000 sq ft fitness center with a state-of-the-art gym and yoga studio, and resort-style poolside service.
Porto Vita North
Porto Vita North is a 32-story tower that's part of the ultra-exclusive Porto Vita luxury gated community. Home to only 126 luxury residences, Porto Vita North, offers residents unparalleled security and privacy. Residences range from 2- to 5-bedrooms, and all offer spacious, open floorplans and private elevator foyers. Luxury features include floor-to-ceiling windows, glass-paned balconies that can be accessed from bedrooms and living rooms, and His and Hers master bathrooms with a Jacuzzi and steam room. Residents have access to the Villa Grande Club, an impressive Italian renaissance-style building that houses casual and fine dining, bar, fitness center, and bar.
Reasons People Love Living in Aventura
1. Minutes Away from the Beach
One thing that Miami is famous for is its beaches, and one area that gives you easy access to the numerous beaches in the area is Aventura. It is located just across from Golden Beach, which can be reached via the William Lehman Causeway, which is connected to Collins Avenue, which incidentally traverses the many beaches that face the Atlantic Ocean.
This close proximity to the many beaches of Miami makes it a great place to live in for families who enjoy the sun, sand and surf. Living in Aventura is like living just a few steps from a vacation and you can take that vacation anytime you like, without any added cost.
2. Top-Rated Schools
One of the things that Aventura is proud of is the high level of education and the great schools kids can attend within its borders as well as nearby. With a 10/10 score from the Great Schools Rating, one school that is found within the city is the Aventura City of Excellence School which is located along NE 188th Street. Other schools of note within and nearby are the Aventura Waterways K-8 Center, with an 8/10 rating, and the Virginia A Boone- Highland Oaks School, which also has an 8/10 rating.
Aside from these great educational institutions, it has also been noted that there is a high value for education in the city, which helps encourage families to strive for the same level of education. Around half of the population are college graduates, and more than 90% finish high school.
3. Shopping!
If shopping is one of the things you and your family enjoy doing, then Aventura is the right place for you. Found within the borders of this city is Florida's biggest shopping center, which is the Aventura Mall. This is also the third largest in the US, with approximately 300 stores, eighteen fast food places, and almost 10,000 parking spaces. Aside from this famous mall, there are a number of other places you can visit to shop in Aventura, and this includes The Shoppes at the Waterways, Intracoastal Mall, The Village at Gulfstream Park, and Sky Lake Mall.
You will also find that there are a few other malls that are near Aventura that you can visit, if this list does not whet your appetite for shopping. These are the California Club Mall in Ives Estates, and Mall at 163rd Street in North Miami Beach.
4. Lots to See, Do, and Enjoy
Aside from shopping, which is one of the things Aventura is famous for, families will find that there are a lot of other things that they can indulge in when it comes to entertainment and fun. There are numerous parks for kids to run around in and for families to have picnics in. There are about 20 coffee shops, 7 libraries, and 14 movie theaters within the city's boundaries.
If you are into fitness, you will definitely find what you need in the 13 fitness centers in the area. If you are a foodie, the numerous restaurants, fast-food joints and specialty food shops here are worth visiting. You can also indulge in aquatic adventures here, golf, arts, and even some theater.
5. Nice Weather
If there is one thing that families in Aventura, and the rest of Florida for that matter, can agree that they all love, it is the warm and balmy weather almost all year round. Winters here do not require people to wear thick coats, boots, and gloves. Instead, you can wear shorts, flip-flops, and t-shirts from January to December. Aventura enjoys an average of 252 sunny days every year, and temperatures are between 37 degrees Fahrenheit and 84 degrees Fahrenheit, depending on what month of the year it is.
There are also cooling rainstorms during certain months, and humidity is often lowest during the winter months. Sea breezes help keep people cool during the warmer days, and monsoon rains are usually expected between June and October, giving residents 7 months of mostly sunny weather.
6. Cultural Diversity
While the majority of the population in Aventura is Caucasian, there are quite a few other cultures in the city. Around 35% of those in this city are of Hispanic descent, with a small percentage being African-American and still a few more of Asian descent. Aside from many different races, you will also find that Aventura is home to people of varying backgrounds and religions.
This diversity is what makes Aventura, and the rest of Miami, very unique. You will find these influences in the restaurants, shops, activities, and communities in this city.
7. Clean Air
Probably one of the main concerns of parents these days when it comes to raising their kids is the environment they grow up in, and with all the progress surrounding everyone, it is somewhat difficult to find a place where pollution is very low. Aventura is one of those few places where clean air is easy to come by. The air quality index of the city is better than that of the national average by 17%, and the pollution index is 86% better than most of the country as well.
It has also been noted that on a scale of 100, with a higher number indicating better conditions, Aventura has a score of 71 for air quality. This is one of the reasons why families love raising their kids here.
Additional Reading
Check out some of our articles about other communities near Aventura: