Allison Island, Miami Beach, FL: Boutique Private Island
Posted by Discover Homes Miami on Sunday, March 21, 2021 at 2:21 PM
By Discover Homes Miami / March 21, 2021
Comment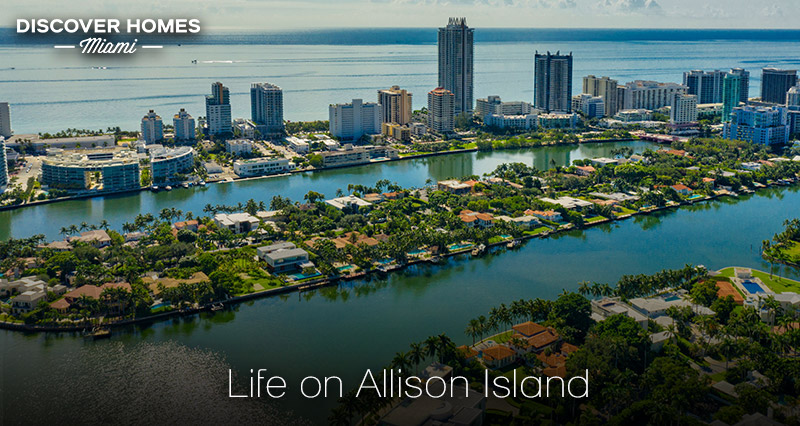 Allison Island is a small, tropical oasis filled with waterfront properties and luxury condominiums. Located near the North Beach neighborhood of Miami Beach, the island spans just 8.5 acres and is situated along the Indian Creek waterway that feeds into beautiful Biscayne Bay.
The artificial island is perfectly located with stunning bayfront views and convenient access to mainland neighborhoods and hot spots via bridges. The island is separated by 63rd Avenue into a North and South section with the South section being known as Aqua. Allison Island offers residents the exclusivity of a private island with easy access to all Miami Beach has to offer.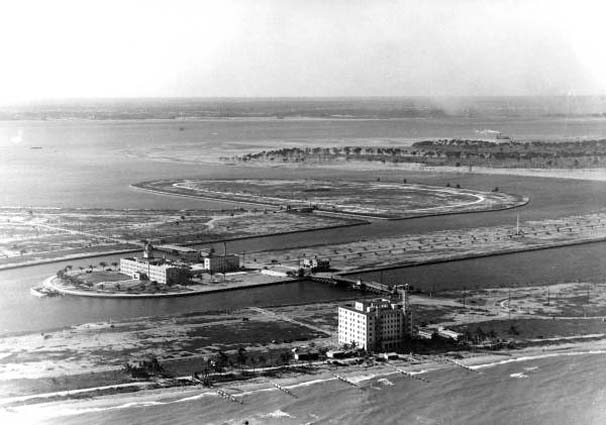 Allison Island in 1926, when the only building was St. Francis Hospital
History
Allison Island has a rich and unique history dating back to its creation in the early 1920s. Entrepreneur, Carl G. Fisher partnered with an agricultural businessman, John S. Collins to develop the Miami Beach swampland into a tropical paradise, attracting wealthy celebrities, executives, politicians, and tourists from around the world. With the dredging of the surrounding waters, the partners redeposited the reclaimed sand to build several islands, including Allison Island.
The island was named for Fisher's business partner, Jim Allison, who operated the Allison Engineering Company. He was also instrumental in his work with the Indianapolis 500 racing events. Allison struggled with numerous health ailments and was continually in and out of hospitals. From his negative hospital experiences, he envisioned a revolutionary concept of a resort-like hospital.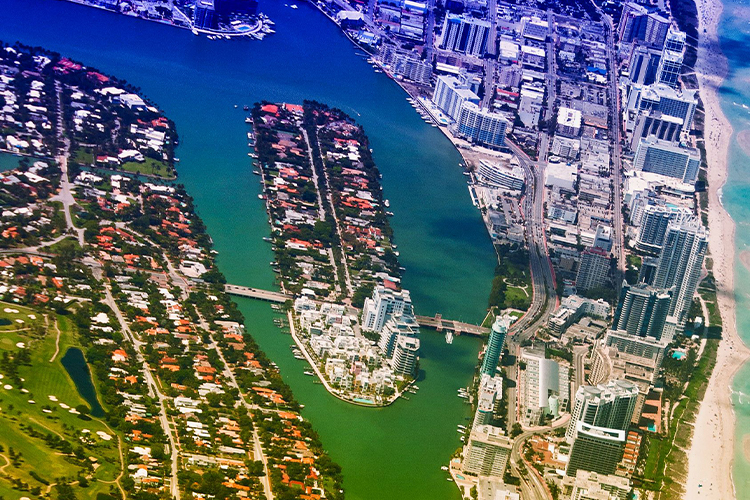 Allison Island today
Fisher donated the island to Allison to make this vision a reality. In 1926, The Allison Hospital opened its doors, catering to the affluent residents of South Florida. Featuring a three-story Spanish-style building, a rooftop area for ocean and sunset viewing, meals served on fine china, and a French chef, the hospital quickly earned world renown.
With the onset of the Great Depression, the hospital became insolvent and was subsequently operated by and sold to the Sisters of St. Francis. Real estate developers later purchased the island and demolished the hospital to make way for future plans.
In 2003, real estate developer, Craig Robins completed his revolutionary Aqua community on the island. Based on the New Urbanism concept, the Aqua community revolves around three architectural masterpieces, each designed by different architects and display unique yet cohesive modern styling. Interestingly enough, Craig Robins was actually born in the Allison Island Hospital.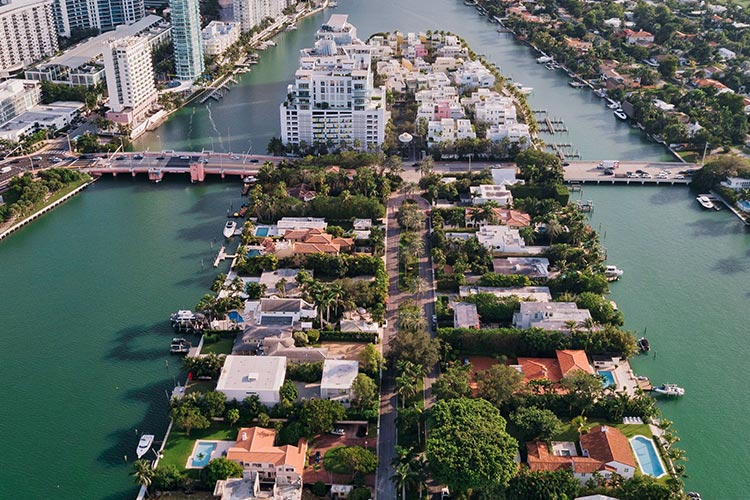 Allison Island contains both luxury condos and single-family residences.
Lifestyle & Amenities
Allison Island offers residents resort-style living with the utmost privacy, and luxury. Entrances into the island are gated with 24-hour security. The island's southern section, Aqua, has innumerable amenities for residents including lap pools, a state-of-the-art fitness center, a playground, public art, and a small market.
Both sides of the island provide ample water access and docks for boating and water enthusiasts. Minimal traffic on the island provides optimal running and walking paths for active residents.
Local Miami Beach hot spots, Lincoln Road and Collins Avenue are just minutes away from Allison Island. From fine Italian dining to casual Cuban eateries, the restaurant choices are endless. The popular shopping destination, Bal Harbour Shops is a short drive away from the island and features over a hundred luxury boutiques and restaurant options.
Allison Island is adjacent to La Gorce, home of the ultra-exclusive country club, La Gorce Country Club. The invitation-only club offers members a pool area, restaurant, fitness center, tennis courts, and a world-famous golf course.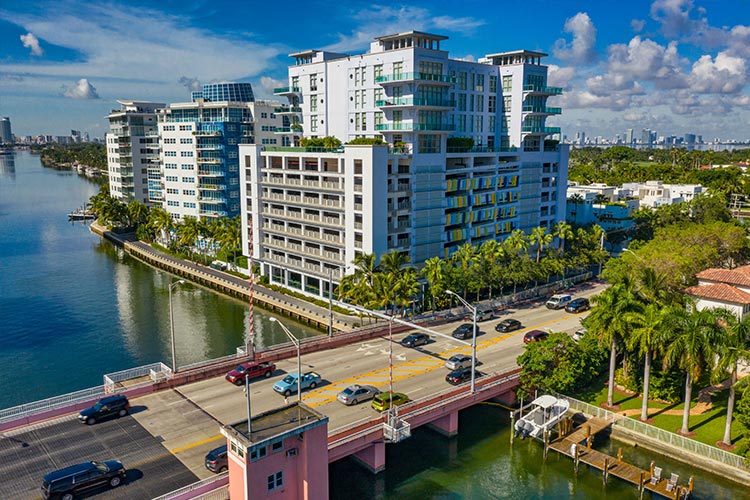 Entrance to Allison Island from Mid-Beach along the 63rd Street Bridge where the AQUA development can be seen.
Real Estate
Allison Island is broken into two sections: North and South. Upscale townhomes and condominiums can be found on the south side and make up the development known as Aqua. The Aqua community includes three modern mid-rise condominiums that are gated and offer enviable waterfront views and access. The stunning condominiums include Aqua Chatham, Aqua Gorlin, and Aqua Spear.
Aqua Chatham was designed by notable architect Walter Chatham and is flawlessly designed to include a parking structure and 16 loft-style condominiums, each with a posh, urban feel.
Distinguished architect Alexander Gorlin designed the Aqua Gorlin structure with 11 stories and 29 units boasting exceptional ocean and bay views. Aqua Spear is a stunning creation by architect Alison Spear, with 11 stories, 60 units, and distinct styling befitting the ocean and white sand landscape.
Also within the Aqua community are a collection of Art-Deco-style townhomes with subtle Miami-inspired colors, balconies, and convenient beach access. The Aqua community offers residents a variety of amenities including a fitness center, concierge, dry cleaning, a market, heated pools, and a children's play area. Sculptures and art are scattered throughout Aqua outdoor areas for residents' enjoyment, contributing to the modern urban vibe of this high-end community.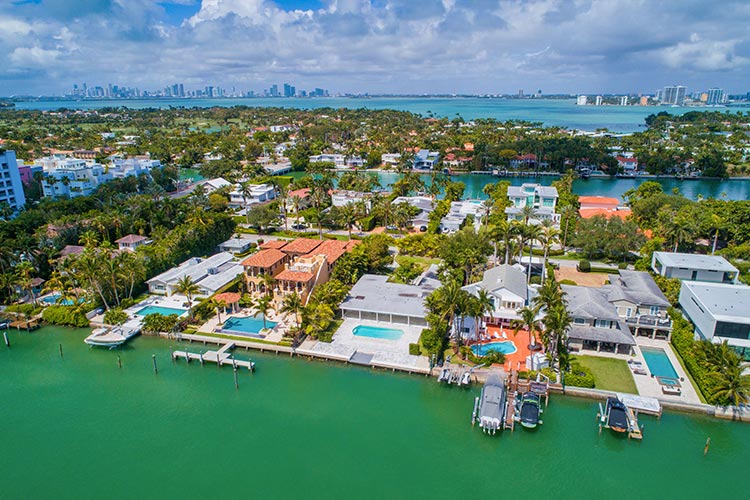 Some of the luxury homes found on Allison Island
On the north side of Allison Island are a collection of waterfront estates. Homes are situated on oversized lots with lush landscaping, swaying palm trees, and private docks for direct water access. Homes vary in styling from Spanish and Mediterranean style mansions to modern, luxury beach properties with sharp lines and plentiful windows and balconies.
Additional Reading
Be sure to check out some of the islands nearby Allison Island: